★★★★★
Sexy, Sassy, Sarcastic Romance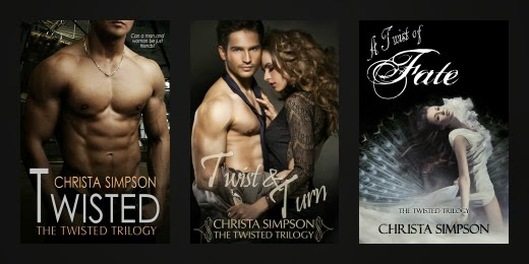 One of the great things about being an Indie Author is the sense of community that exists between fellow Indie Authors. Because we all take on the challenge of marketing our own writing, we've had to learn to gather together, and to read and support each others' work. In doing so, we get the opportunity to read some great books that are outside our own favourite genres, and we grow as authors in the process.

I recently had the opportunity to read The Twisted Trilogy by fellow Indie Author Christa Simpson. Although I'm the first to admit that Adult Contemporary Romance isn't my first choice when it comes to reading, I found myself thoroughly enjoying Simpson's story and her style of writing, right from the prologue of Twisted, the first book of the Trilogy, to the epilogue of Twist of Fate, the conclusion of the series.

In Twisted, the first book of the trilogy, Simpson delivers on her promise of a sexy, sassy, sarcastic romance. Her strong characters, especially the hot, dreamy Edwin Santora and sexy, sultry Abigail Jenkins, have an irresistible chemistry full of angst and sexual tension that leaves readers yearning to find out what happens next.

Simpson has a light, breezy, entertaining style of writing that is easy to read. She skillfully weaves intervals of sassy, carefree banter between the characters, with periods of high emotional drama and sexual tension. If that wasn't enough, she teases us with the occasional taste of the paranormal. The result is a story that makes it nearly impossible to put Twisted down.

After reading Twisted, I wondered how Simpson could possibly inject more relationship angst and sexual tension than she did in her debut novel. But when Abby unexpectedly meets Cameron Clarke, a widowed single father, a volatile love triangle develops between the couple and Abby's ex-boyfriend, Edwin. Just to make things even more complicated, Abby still shares a house with Edwin at the same time that she's falling in love with Cameron.

In Twist and Turn, Simpson continues her light, breezy, entertaining writing style. But in this sequel, she turns up the intensity on the drama and sexual tension. She continues to tease us with brief glimpses of the paranormal. The result is even more gripping and entertaining than Twisted. How is Abby going to navigate the dangerous waters of this love triangle? Who is she going to choose in A Twist of Fate, the final book of the Trilogy: Cameron or Edwin?

Just when Abby falls in love with Cameron, the man who has everything she ever wanted, fate starts working against her. As she prepares to move in with Cameron and his loveable young daughter Phoebe, Edwin is always nearby to keep Abby second-guessing herself. Her inner conflicts leave Abby torn, and unable to decide between the her two lovers.

It's easy to see why Abby can't decide. In the two loves of Abby's life, Edwin and Cameron, author Christa Simpson has created two strong, unique characters, each of them loveable in their own ways. But both men also have flaws that drive Abby and readers crazy. Just when we start liking Edwin or Cameron, they seem to do something to disappoint us. Just when we want to give up on either one of them, they do something that endears them to us.

In A Twist of Fate, Simpson has written a devilishly clever book that also leaves the reader struggling to choose Abby's ideal lover, and leaves us all guessing right up to the final climactic chapter. How does Abby resolve her romantic dilemma? Will she ever be able to put her own inner demons to rest? Just when I thought I'd figured out how the book would end, Simpson threw me a change-up, and left me second-guessing myself and applauding her ending.

Christa Simpson has fully delivered on her promise of writing a sexy, sassy, sarcastic romance Trilogy, which in the end, is also thought-provoking and satisfying. Whether you're already a fan of Simpson's style of contemporary romance, or if you're looking for a New Favorite romance author, look no further that A Twist of Fate and the entire Twisted Trilogy.