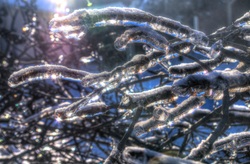 This is the time of year where I live in Canada, when we try to focus attention on the need for improving mental health for everybody. As a psychologist, I watch developments in this area with great interest. What I see is a lot of attention being paid to getting rid of mental health afflictions like Depression and Anxiety Disorders. While I applaud the attention being paid to that area of mental health, I feel that another important question doesn't receive nearly as much attention - What are the essential ingredients of mental health.

What I'm going to tell you hasn't been taken from research journals or textbooks. It's what I've learned from my years of helping to improve the mental health of the people I see. And I've reduced that learning into three basic, everyday things that we can all do to improve our mental health, not by getting rid of our negative emotions and thoughts, but by creating what psychologists call Positive Affect, or positive emotions. How do we do that? Let me give you an example.

Just a few weeks ago, on Christmas Eve, I got off work at noon to head home for my holiday break. For many of us in Eastern Canada and the U.S., we had experienced a catastrophic ice storm a few days before, with many people going without electricity for many days. But on this day, the sky was perfectly clear and blue, and the sun was reflecting and sparkling off of the layers of ice that remained on all of the trees - those that lay scattered on the ground and those that still stood. It was an unbelievable crystal fantasy - a winter wonderland surpassing even the most beautiful winter scenes in movies like Dr. Zhivago.

I couldn't wait to get home and grab my trusty Pentax DSLR. The air was crisp, clear, and cold and my fingers quickly succumbed to the cold, requiring plenty of hot breath to keep them awake. I raced home and uploaded my pictures, selecting some of the best to share with family and friends on Facebook. When I uploaded them that night, I realized that another lady who works in the same building as me, had spent her Christmas Eve afternoon doing exactly the same thing, sharing her favourite photos from that magical day with her friends and family. We were able to share and compare our experiences on Facebook, and after the holidays when we met in the hallways of our workplace.

So, you're probably asking what my Christmas Eve story has to do with the three essential ingredients of good mental health. First, it demonstrates that we all need a hobby (or two) - something we love to do and are passionate about. For me, I've always loved wandering with my camera, looking through the lens to find unique ways to see the world around me. More recently, I've taken up a second hobby - the challenge of writing and self-publishing my first novel, and writing blogs like this one. With the advent of Amazon and ebooks, the self-publishing business is booming. And it's no wonder. It's the perfect way to escape from the stressors of daily life and unleash your imagination and creativity. For those of us who have tried it, we've discovered how incredibly relaxing writing can be. And when you see your story taking shape, it creates a wide range of positive emotions such as enjoyment, pride, and satisfaction. So I encourage all of you to go out and find at least one hobby.

Now, I know you're going to tell me how unhealthy it is to spend hours in front of a computer screen, churning out your bestselling novel. And you're absolutely right. The second secret to mental health is exercise - getting your heart pumping and your blood flowing. If nothing else, it sends fresh blood and oxygen to your brain, so your neurons can produce all of the essential chemicals necessary for good brain function! But it also helps you to get out of the house, smell the flowers, hear the birds, walk the dog, and let your brain relax. Take a walk on a beautiful winter afternoon like I did. It's enjoyable and relaxing, and it creates more positive emotions. I guarantee that you're going to feel better when you get back from your exercise, than you did when you got up from your computer. And if you happen to derive the added bonus of losing a few pounds, you can also throw in even more positive emotions like pride and satisfaction!

Alright, so now you have a couple of hobbies and you're getting out of the house to get some exercise. What's next? The third ingredient of mental health is to share your newly found hobbies and exercise activities with other people, like I did when I got back from my walk! Humans are social creatures. We have a natural need to be connected to other people socially. Join a photography club, share your photos over the internet with family and friends, or connect with other writers or photographers in your community or on the internet. Share your enthusiasm for your hobbies and activities with others who share your passion.

There you have it. It's not rocket science, and anybody can improve their mental health by adding these three basic ingredients to your lifestyle. All it takes is some experimentation to find the types of hobby and exercise that are right for you. Then it takes a little effort to share your experiences with your friends and family, or to find new friends by joining clubs or interest groups in your community, or on the internet. In return for the time you've invested in your hobbies, exercise, and connecting with others, you'll find yourself creating more Positive Affect, improving the amount of mental energy you have for coping with life, and improving your overall mental health. Try it and see how these simple ingredients can change your life.

Alex Jones is a clinical psychologist, and the author of the novel Walls: The Identity Trilogy, Book One, now available in paperback and ebook through Amazon and most other major booksellers.