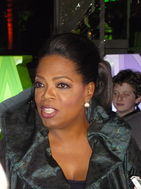 It's the morning of New Year's Eve. I've had a great sleep-in and I'm wandering through my kitchen, making coffee and breakfast, and watching some daytime TV, something I rarely get to do on a weekday. I'm a writer, so my mind starts to wander. After about half an hour or so of watching TV, I come to a sudden realization.

Even though it's been over two years since Oprah's daytime talk show went off the air, I've seen two video clips of Oprah in less than 30 minutes! Even in semi-retirement, she is still one of the most-seen and most-admired personalities on TV and in the media! Because I'm a psychologist in my day job, I can't stop myself from being curious about people and their personalities. I find myself asking the question: What is it about Oprah that we all admire so much?

We've all heard Oprah's story (1), and been awed by the incredible hardship, traumas, and social disadvantage that she experienced while growing up. First, she grew up in extreme poverty with a single mother who was often absent, working long hours to survive. She was disciplined with a stick by her grandmother when she misbehaved, and was teased by other children when she often had to wear clothes made from potato sacks. She was shuffled back and forth between her mother and her father over the years.

If all of that wasn't bad enough, Oprah admitted that she was sexually abused by a cousin, uncle, and a family friend beginning at the age of nine. She was pregnant at the age of 14, having her young son die shortly after birth. To top it all off, she was African-American and female. She had suffered almost every kind of abuse, trauma, injustice, and social disadvantage that a person in America could experience. As a psychologist, when I see a person with a traumatic history like Oprah's, most of the time that person has severe, chronic mental health problems that cause them to struggle for the rest of their lives.

So what is it about Oprah that helped her to rise above her traumatic childhood, racism, and sexism, and become the success and inspiration she is today?

Fortunately for her, she had some positive influences in her life. Her grandmother stressed the importance of memorizing biblical passages and public speaking, something that helped Oprah develop self-confidence. Her father stressed the importance of education, so Oprah thrived academically, becoming an honours student and Most Popular Female student in her high school. Her public speaking skills helped her to win an oratory contest that won her a full university scholarship, so she could study communication. Her unique style attracted the attention of a local Black radio station while she was in high school, and she went on to create an impressive reputation in radio, then in TV in Nashville, Baltimore, and Chicago. The rest is history.

The late Nelson Mandela (2) expressed his admiration for Oprah in a 2007 article in TIME magazine, when he said that "Oprah Winfrey's own story is an inspiration because she overcame almost every obstacle that a person might face." That one sentence captures the essence of why almost everybody in the world admires Oprah. She managed to overcome her obstacles while so many others have failed to do so.

Okay, since I'm a psychologist, you're probably going to ask me: What qualities does Oprah have, that so many others appear to be lacking? My experience in working with victims of trauma has shown that almost every victim develops a part of themselves that is a strong, Survivor persona. In other words, everybody has a part inside themselves that finds a way to be strong enough to survive from day to day. However, most trauma victims have difficulty recognizing and harnessing that part of themselves to move forward with self-confidence. In most trauma victims, that Survivor persona becomes negative, self-doubting, and defensive. Their Survivor part struggles to help that person live day by day, often getting in the way of moving forward in a positive direction.

On the other hand, Oprah and other true survivors manage to find and acknowledge that strong, Survivor part of themselves. They manage to nurture it and harness its energy to move themselves forward in a positive direction. As people like Oprah start to succeed, they start to believe more and more in themselves. In the process, they gain even more self-confidence and become even stronger and more successful. And in Oprah's case, as she has succeeded, she has given back to others who are disadvantaged as she once was.

Anybody who has ever watched Oprah on TV can see that she exudes self-confidence and inner strength, and we see how successful it has made her in her own unique way. As Nelson Mandela noted, because she has overcome so much, we see her as being the ultimate Survivor. It is Oprah's inner strength and self-confidence, as well as her willingness to give back to others, that we all admire so much and want to emulate.

So, how has Oprah inspired me as a psychologist, a writer, and a human being? As a novelist, it's my job to write stories about the human condition, with characters who are as compelling and real as possible. I try to show how the villains or antagonists in my stories always fail, because they never manage to find their true inner strength. It's their Achilles heel and the big reason why they don't prevail in the end. But for the heroes or protagonists in my stories, their inner Survivor is their Ace in the Hole, as it was for Oprah. It's what eventually helps them to prevail over villains and adversity, and leaves readers feeling good about the outcome of the story. Readers of my first novel, Walls, say they love the strong characters I've created, but they especially love Francesca Capellini, a character who has always managed to find that strong, Survivor within herself.

As a psychologist, I'm inspired by Oprah to help victims of trauma and abuse, and to help them find and nurture that strong, internal Survivor that they have been unable to access. Some people, like Oprah, have managed to find their Survivor on their own. Others need help and therapy to find it, and that's my role as a psychologist. But on a human level, Oprah has also inspired me to give back and help others who are victims of adversity and hardship. That's why I'm Giving Back a significant amount of the earnings from my novel Walls to help women and children who have been victims of Domestic Abuse.

We all have our own life stories, and Oprah has managed to touch us all in a different way. That's why she continues to inspire us, and we continue to admire her, even beyond her daytime TV show. It's no small wonder that we continue to see her presence and her influence in the media and in the world on a regular basis. And hopefully, we will all continue to be inspired by her for many years to come.

---