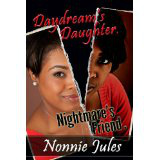 Daydream's Daughter, Nightmare's Friend is the story of Maiya James, a young African-American woman born into an impoverished Houston family. She is the daughter of Aurelia James, a woman who is both emotionally and physically abusive to Maiya. But her mother's biggest crime is emotional neglect - turning a blind eye to the sexual abuse being doled out by Maiya's stepfather, Duran Lee.

As a writer, who is also a psychologist, I was very interested to have the opportunity to read this novel by Nonnie Jules, especially since it deals with very similar themes to my first novel. The story reads more like a memoir than a fictional novel, but the author's style of writing works well for this particular story, which grabs the reader and evokes our empathy for Maiya right from the opening line. It is an endearing story that is very gritty and hard to read at times, given the graphic descriptions of abuse that are necessary for us to really understand what Maiya endured.

Daydream's Daughter skilfully captures the reality of how abuse affects the lives of its victims - from substance abuse to periods of dissociative amnesia and rage and violence, to sexual promiscuity and difficulty with being able to trust true adult intimacy. It is obvious that the author has an excellent understanding of the nature of domestic and sexual abuse and its tragic consequences. Despite the often heavy subject matter, the author's writing style is light and easy to read. Overall, Daydream's Daughter, Nightmare's Friend is a beautiful debut novel from a writer with a talent for telling stories that encompass both the dark side and the loving side of life.

Find out more about Alex's first novel Walls: The Identity Trilogy, Book One, now available in paperback and ebook through Amazon and most other major booksellers.