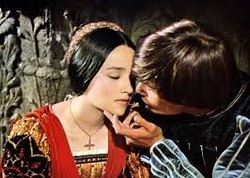 Well, it's almost that time of year again - February 14 - and you know what that means. That's right, guys. Valentine's day is just around the corner. And what better time to talk about classic love stories, than on Valentine's day.

Everybody loves a good love story. We all love romance and happy endings. Yes, even all of you guys out there! Even if you refuse to admit it, what heterosexual guy doesn't like a story where we eventually win the girl! And everybody has their favourite love story - maybe it's Demi Moore and Patrick Swayze in Ghost, Ryan O'Neil and Ali McGraw in Love Story, or Kate Winslett and Leonardo DeCaprio in Titanic.

For me, it will always be Romeo and Juliet. How could I ever forget taking my first girlfriend, the love of my life at that time, to see the Franco Zefferelli version of Romeo and Juliet as a sixteen year old. Sitting together and holding hands, watching the romance and the tragedy of Shakespeare's classic unfolding before our eyes. Oh, to be young again!

When it comes to romance, what could be more timeless than Romeo and Juliet? What gives Shakespeare's story it's enduring appeal? It's a tragedy, you say. How can a failed love story, where both characters die, have a popularity that has endured over centuries? What are the ingredients that makes Romeo and Juliet so timeless?

Let's break it down and find out what went into Shakespeare's recipe for the perfect romantic tragedy. First, there's forbidden love. Nothing grabs an audience and creates empathy for characters like forbidden love! Romeo and Juliet's love didn't just have to struggle against a family feud, the rivalry was so intense that their love went against the social conventions of their day. Alright, so they went against social convention and their parents' wishes. What else is so special about this story?

The only thing more enticing than forbidden love is sacrificing one's self for your lover. Now that's great stuff! But Shakespeare didn't stop at just sacrificing either Romeo or Juliet, he went over the top and sacrificed them both for each other. How can you top that! The answer, of course, is that you must. You can't just end the story with two dead lovers. How do you wrap it all up and put a big bow on it, so your audience walks away and actually feels good about the two deaths? In the end, you have to convince your audience that something good came out of their sacrifices. Shakespeare did this by having the Montagues and Capulets come together to realize the folly of their ways in the end.

So, fast forward a few years … okay, many years … and I'm no longer a starry-eyed sixteen-year-old boy. Now I'm a psychologist, sitting in a restaurant in romantic Manarola, Italy, conjuring up characters for my first novel. Is it a coincidence that I'm envisioning a handful of dysfunctional characters on a collision course with romance, and eventually tragedy?

Maybe it is just coincidence. I didn't intend to write a tragedy, but it gradually evolved that way. When I look back at the ingredients that went into my story, there is an eerie resemblance to the list of ingredients that went into Shakespeare's Romeo and Juliet. Which raises a good question - is it possible to write a romantic tragedy in the tradition of Romeo and Juliet that is relevant in the 21st century?

As a first time novelist, I'll be the first to admit that I'm no William Shakespeare! But I must have felt it was possible to write a modern romantic tragedy if my ideas eventually morphed into just that kind of story. So how did I tweak the classic ingredients above to come up with a tragedy with a modern twist?

What kinds of social convention could my lovers forsake? How about having one of my couples try sampling the secret delights of a nudist resort? Even better, how about tempting them by adding some flirtatious couples and the allure of what it might be like to swap their spouses? Now that's crossing the lines of a few social conventions! Just to add some more spice, what about throwing in a dash of young teenaged boy seducing his former nanny?

Now we've definitely got some different flavours simmering in our story pot! Perhaps we could add some BDSM into the sexual shenanigans. That would have been completely outrageous up until Fifty Shades of Grey came along a couple of years ago. Since then, BDSM almost seems mainstream and perfectly acceptable. But hold on a minute. Is it really as healthy as E.L. James made it out to be? What happens to BDSM in the hands of a character who carries a lot of unhealthy emotional baggage? Now we have a rich melange of flavours blending together in our pot. So, how do we incorporate Romeo and Juliet's final important ingredient. How do we find a way for one (or more) characters to sacrifice themselves for the their lover? And finally, can we find a way for something good to come out of that sacrifice?

Looking at the list of ingredients I added to my pot, I think I came up with a compelling romantic tragedy that has all of the essential elements of Romeo and Juliet, but with a most definite modern twist that makes for a steamy psychological thriller. The result is my first novel, Walls: The Identity Trilogy, Part One.

Which character(s) make the sacrifice in Walls? What good comes out of the tragedy? If I told you now, you'd all be tweeting #SpoilerAlert within seconds! But most importantly, what makes Walls unique and different from Shakespeare's classic? More than being a tragedy, Walls is a story about the spirit and strength of those who survive abuse and trauma at the hands of others. I think it's the distinctive ingredient that makes it a great, tragic love story in its own right, making it relevant for today.

Walls is not your typical romance. It's definitely a tragedy, but it's also a steamy erotic romance full of both love and pain. It's a psychological thriller. And good things do come out of this tragedy. I promise!


So if you want to treat yourself to a steamy, erotic taste of romantic tragedy with a modern twist this Valentine's day, try Walls. I think you might just like how the recipe came together!


Alex Jones is a clinical psychologist, and the author of the novel Walls: The Identity Trilogy, Book One, now available in paperback and ebook through Amazon and most other major booksellers.