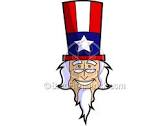 Uncle Sam Goes for Counselling: An Analysis of the American Psyche


Part 2: Reducing Uncle Sam's Fear and Helping Him Change

In Part 1 of this Blog, I pointed out a comparison between many of my clients who come to see me for psychological treatment for their histories of trauma and abuse, to Uncle Sam and his history of traumatic events over the course of America's lifetime. To demonstrate my point, I created an imaginary counselling session where Sam came to consult with me about why he seems stuck, not feeling successful and unable to forward in his life.

As I would for my clients, I asked Sam about his history, hoping to help him see how history has shaped the development of his personality – how he has become afraid of the outside world, and has developed paranoid personality traits that have protected him at times, but have also made him enemies, and have made him insecure and anxious on the inside.

So, let's imagine that Sam has been in counselling for a while. Why don't we listen to how he's doing …


"I'm starting to think you might be right, Doc. I look at how much of my energy I spend just trying to make myself feel safe. And it's not just energy. I realize how much money I'm spending and how much I've got myself in debt. But I'm torn, Doc. I just can't start ignoring the rest of the world and stop protecting myself. I don't know what to do."

"That's a good point, Sam. Do you think it would be good if I took away your ability to feel afraid?"

"I'm not sure. I feel confused. I don't like feeling afraid. But shouldn't I be afraid if I'm in real danger?"

"That's good, Sam. You're absolutely right. You should be afraid if you're in real danger. But what about the times when you're not? What if I asked you to just turn your fear down a few notches. Can you learn to monitor how things are going out there, but learn to tell yourself when you're in danger, and when you're not? Maybe you can learn to listen to the other parts of your identity when they're saying you can relax and let your guard down."

"That's going to be hard, Doc. I'm always on high alert. I don't know if I can learn to relax. What would I do instead?"

"Good question, Sam. The best way to turn off any of your negative emotions – like fear or sadness – is to start doing things that create positive emotions. You do that by trying and learning new things, and learning to feel proud and satisfied with yourself when you start to succeed at them."

"So, how do I start doing that, Doc?"

"You can start by getting back to things you used to do, but haven't done for a while. Can you think of any things you've stopped doing, but want to do again?"

"Well, I used to be pretty good at making things. And I used to employ a lot of people to help me make those things. But lately, I've been letting people in other countries build them for me, because I've spent so much time out of America."

"That's good, Sam. Can you think of anything else?"

"Yeah, Doc. I just realized, if I start talking more with all of the different parts of me, maybe we can start working together to start building things in America again!"

"That's a great goal, Sam. Can you think of anything else?"

"Well, yeah. I just realized something. If I stop being so afraid of all my inner voices, and start listening to them, maybe I'll be more creative and productive. I guess I need to be more open to listening to other opinions, and learn to compromise more."

"It sounds like you're learning a lot here, Sam. I'm excited for you."

"Thanks, Doc. One more thing. I realize that while we've been talking about ways to be more positive, I haven't thought at all about danger in the world, and my fear's disappeared! I can't believe it went away that quickly. I can't believe I've spent so much time and energy trying to change things I can't control!"

"I'm proud of you, Sam. You're starting to change the way you think about yourself and the world! And you're not so obsessed and afraid about everything going on in the world around you. But the real test is going to be learning to convert those changes in your attitude, into changes in the way you do things every day."

"Thanks, Doc. I know it's going to hard to change. But I think I can do it."

"I know you can, Sam. Remember your history, and embrace it. But you also have to let go of all the bad things that have happened to you. They're all in the past. Think about it. You've always managed to dig deep and use your inner resources to survive those bad times, and you've always managed to succeed. If you stop being so afraid ‒ afraid of the rest of the world, and afraid of your own inner enemies ‒ and instead, if you start putting all those resources to work in a positive way, I think you're going to find yourself starting to live up to your potential again!"

"Thanks, Doc. I appreciate your confidence. And I just realized one more thing. Maybe if I don't worry so much about what everybody else in the world is doing, then maybe they won't notice me so much, and they won't be so angry and aggressive towards me."

"You might just be right, Sam. Why don't you try that for a while, and see if you notice any changes?"

"I think I'll do that. I think I'm feeling much more positive about my future. Do you think I need to book any more appointments with you?"

"Well, I'll leave that up to you Sam. I guess it depends on how things go in the future. Why don't you go out and try putting your new attitude to work, and see how it goes for a while. You can always come back if something continues to be a problem."


So just like I would with my real-life therapy clients, that's how I'd leave it with Uncle Sam, letting him go out into the world to experiment with a new attitude and new ways of doing things.

Do I think Uncle Sam will be able to turn things around? From a psychological perspective, I think it depends on whether America can do as President Obama suggested in his State of the Union address.

" … if we work together; if we summon what is best in us, with our feet planted firmly in today but our eyes cast towards tomorrow – I know it's within our reach."

If America can acknowledge its history, but let go of its traumatic memories and all of its fear ‒ if it can summon the qualities that have always helped it to survive those traumas ‒ and if Americans can learn to trust each other and embrace the strengths and differences and opinions of each and every citizen, then I can't see any reason why America shouldn't be able to reach its full potential in the future, just as it has in the past.
Alex Jones is a Clinical Psychologist and Author. His first novel, Walls, is now available in Paperback and eBook from major booksellers.