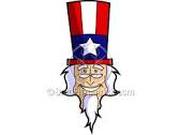 Uncle Sam Goes for Counselling: An Analysis of the American Psyche

Part 1: Examining Uncle Sam's History

President Obama's State of the Union address was front and centre on cable TV here in Canada last week. While watching the speech, it got me thinking about America's fear of Universal Healthcare. Then, because I'm a psychologist, it got me thinking about America's history of fearing change and outside interference in their country's events. Soon, it dawned on me that America has a lot of similarities to many of the clients who come to see me for help. Those clients complain that they feel they have so much potential, but always seem to be sabotaging themselves. Part of them knows they're doing it, but other parts of them refuse to give up their defensive, self-destructive behaviour. Is it just me, or does that sound a lot like America's current predicament?

As a Canadian watching the U.S. from a distance over the past year, I see a country with distinct factions that continue to sabotage the political process, yet continue to refuse to give up their defensive behaviour. It's sad to see such a great country failing to live up to its potential. But as a psychologist, I see the same process in many of my clients who have been traumatized or abused in the past. In those clients, I see an identity that is split into many different conflicting parts, much like I see in the U.S. right now.

So let's imagine that Uncle Sam came to see me for a psychological consult and some counselling. It might go something like this …

"Hello, Sam. It's nice to meet you. What can I do to help you?"

"Well, Doc. I'm really frustrated these days. I feel like I have so much ability, but I just don't seem to be living up to my potential. I find myself getting angry at others around me, and I feel like they're always harassing or attacking me. It's affecting my relationships. Even some of my best friends are angry and upset with me these days. I feel stuck, and I just don't know how to get moving forward again. Can you help me, Doc?"

"Sure, Sam. I think I can help. But before I can come up with a plan for helping you, I need to do an assessment – gather some information and find out some more about you. The purpose of the assessment isn't to diagnose or judge you. I've just learned that gathering some information about your history helps me to find out more about you. Sometimes people have had traumatic things happen to them when they were young, and they've developed some ways of coping that are like bad habits. They may have helped when you were young, but they aren't helpful now that you're a mature adult. It's those bad habits that may be holding you back now."

"Really, Doc? I've always been proud of my history. It's made me what I am today."

"I'm glad that you're proud of your history, Sam. I'm sure you've developed many fine aspects of yourself over the years that have helped you as you've grown up. But if terrible things have happened to you in your life, you've probably developed parts of your identity that can feel frightened, sad, helpless, lonely, guilty, or angry. And you've probably also developed aspects of yourself that are loving, nurturing, empathic, caring, proud, creative, adventurous, and even perfectionistic. Only some of those aspects of yourself will be active at any one time, depending on what's going on in your life at that moment."

"So, does that mean I have multiple personalities, Doc?"

"Not at all, Sam. It just means you have many different qualities, just like everybody else. It's just that sometimes, people start using the wrong aspects of themselves in the wrong situations. Or they get stuck in a rut, using the same aspect of themselves in almost all situations. Even worse, different parts of yourself start to conflict conflict with each other, and you find that you can't decide what to do next? For example, what happens when a person's guilty and perfectionistic sides are activated at the same time? How do we resolve the conflict? What happens when we develop a frightened, paranoid part of ourselves that is afraid to try things, when our adventurous side really does want to explore and find new ways of doing things?"

"Okay, Doc. I think I see what you're saying. Do you think that's what's happening to me? Are you saying that the different parts of my personality aren't getting along and aren't working together?"

"That's it exactly, Sam. What do you think happens when some of your defensive inner parts start fighting back against some of the healthier aspects of your identity?"

"Well, I guess the conflict inside me would cause chaos. It's probably why I find that I'm indecisive. I can't even make decisions these days, so I can't solve any of my problems."

"That's right, Sam. That's why it's important for me to hear some of your history. That way, I can try to identify when things might have started to go wrong for you. Can you tell me what it was like while you were growing up?"

"Sure, Doc. It all started with my earliest ancestors, the Pilgrims. You knew they were persecuted for their religious beliefs before they left England, didn't you? They managed to escape their religious persecution by coming to America, only to find an extremely harsh life, where they had to fear for their most basic survival against the elements. And because they had been so badly persecuted and harassed, they couldn't trust anybody completely, even the natives who already lived in America. So we learned to carry guns for hunting, but also to protect ourselves – just in case those natives got restless."

"I see, Sam. So what happened as you and your ancestors got older?"

"Well, they managed to survive the elements and the natives. But then they started to get harassed and bullied again – once again from England, in the form of excessive taxation. We weren't going to run from the bullying again. This time we stood up and fought back? I'm sure you've heard of the Boston Tea Party and our Revolution against the British?"

"Yes, I think we all have, Sam. It's a part of your tradition that still makes you very proud, isn't it?"

"You're darn right, Doc. We learned one thing from our early years. We learned that we always have to be on guard. And we were right! Time after time we were right. We had to fight the British again in the War of 1812. That time they came at us from Canada. They even burned down the White House! And just when we thought we were safe, we had to deal with the Confederate States over the whole slavery issue. My ancestors and I, we've had a difficult time finding time to relax and let our guard down."

"Were there any times when you weren't afraid for your life, and when you weren't fighting, Sam?"

"Yeah, Doc. There were some good times. Like when we were building the country and spreading west. But we couldn't let our guard down. For one thing, we still had problems with the natives as we spread westward. Yeah, we had some good times. But there's always been trouble somewhere in the world. If somebody wasn't picking on us, they were picking on our friends. Just look at Europe – the First and Second World Wars – we couldn't just stand there and let our friends get bullied!"

"And then there was Pearl Harbour, isn't that right, Sam?"

"Absolutely. We had to stand up and defend ourselves again. But it didn't end with World War II. Then there were the Communists after the war – the Cold War and the Cuban Missile Crisis. And just when we thought we were finally going to get some peace, there was the Ayatollah in Iran, and finally 9-11 and the attacks on New York and Washington. When is it finally going to stop, Doc? Is it any wonder I'm always afraid? Is it any wonder I always have to be on guard, ready to defend myself and my friends? Of course I need to have the world's largest military force. My citizens still need to carry guns to keep themselves safe. And I still need to patrol the world. I need to make sure somebody like Iran doesn't catch me with my guard down. That makes sense, doesn't it, Doc?"

"Well, Sam. I can see why you've learned to be afraid, and why you feel like you always have to defend yourself. But I see something in you that happens to all people who have been victims of trauma. You all learn that you always need to focus on the world outside as a way of protecting yourself and feeling safe. Granted, it's helped you many times in the past. But what other problems has your fear caused? Especially lately? Do you think you might have made some enemies with your aggressive attacks on bullies in the outside world? And is it possible that while you've been so focused on keeping the world around you safe, that you've forgotten how to feel safe and secure on the inside? Have you become so insecure and anxious on the inside, that all of the internal parts of your identity that we talked about before, are now in conflict with each other, causing chaos inside you? Do you think that's what could be getting in the way of being able to move forward?"

"Alright, I see your point, Doc. I'm not saying you're right. But if you are, what can you do to help me start moving forward again? What do you suggest? …

Okay, readers. I think you're getting the idea now. It seems like Uncle Sam has developed some pretty significant Paranoid traits as he's grown up. He's become afraid of almost everything. But most importantly, he's become afraid of change!

Uncle Sam is so attached to his history of fighting and being afraid, that he doesn't remember how to do anything different. All of the different internal parts of his identity are stuck in conflict – the healthier parts of him that are caring, adventurous, and creative want to move forward into the future – but Sam's defensive parts are having a tough time letting go of his fear. The frightened and defensive parts of Sam's personality see change and new ideas as something that threatens his sense of history and tradition.

If that's the case, what suggestions can I make that will help Sam to start moving forward again in the future? In part two of this blog, I'll ask you to imagine that I'm sitting down to discuss counselling suggestions with Uncle Sam. Hopefully I'll be able to make some suggestions that will help him see that he can have a happier, healthier, relationship between the different parts of his own identity, and better relationships with other countries around the world.

And if Uncle Sam is willing to try to let go of some of the past, and make some changes in the present, maybe he can start making decisions and solving internal problems that will get him moving forward again in the future. As President Obama said so wisely in the last sentences of his recent State of the Union Address:

" … if we work together; if we summon what is best in us, with our feet planted firmly in today but our eyes cast towards tomorrow – I know it's within our reach."

Watch for Part 2 of this Blog - Coming Soon!

Alex Jones is a Clinical Psychologist and Author. His first novel, Walls, is now available in Paperback and eBook from major booksellers.