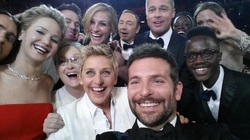 Did anybody else out there watch the Oscars on Sunday night?

In past years, this is a question you had to ask around the water cooler on Monday morning, since fewer and fewer people have been tuning in over the past few years. But not this year! Sunday night's event, hosted by Ellen Degeneres, was seen by 43.7 million viewers, Oscar's largest audience in 14 years. It seems that Ellen has a magic that nobody else in Oscar-land has been able to find recently. I have to admit that I was one of the 43.7 million, and I thoroughly enjoyed the show for the first time in a long time.

So what does Ellen do that draws people, not only to the Oscars, but to her incredibly popular daytime talk show? You don't have to look any further than the now infamous Selfie, taken by Bradley Cooper of Ellen and a handful of celebrities, that succeeded in making both the live and TV Oscar audiences have a good laugh, but also managed to crash Twitter with a record number of ReTweets - no small feat! Then, to top it all off, everybody thought she was joking about ordering take-out pizza to the Dolby Theatre - until Edgar the Pizza Delivery Guy was ushered onto the stage with four extra-large pizzas for celebrities, whom Ellen joked had been starving themselves for days so they would still fit in their elegant gowns and tuxes!

And Ellen's magic didn't stop on Oscar night. On her live show the following day, with only a few short hours of sleep, she and her guest Cate Blanchett passed Cate's Oscar trophy around the audience so that everybody in the audience could have the rare opportunity of handling one of the iconic trophies. Yes, Ellen manages to bring everybody, even some of the world's biggest celebrities, down to earth in a way that forces us to stop taking ourselves so seriously. She dares us to slow down, to relax, and to be real!

Just to set the record straight, I don't consciously make time to watch daytime talk shows. But my wife is one of Ellen's throng of admirers who faithfully sets her PVR to record Ellen, so she can enjoy the show after dinner is done and tomorrow's lunch is made. It's the time of day she most looks forward to. Because we live in a cozy little bungalow with an open design, we can always see the TV when we're working in the kitchen.

So, in the evening, while I'm making my lunch for tomorrow, Ellen is always on. I can't escape her. She seeps into my pores by osmosis! But I always find myself laughing at her deadpan antics, or the pranks that she and her staff pull on unsuspecting celebrities or guests on her show. Yes, whether I've planned it or not, Ellen is there every night, helping me wind down while I get ready for another day.

Since, like most of you readers, I have a day job, and since I also try to find the time to write fiction and this blog in my spare time, I try to set limits on the amount of TV I watch. As a psychologist, I'm helping people with serious problems by day, and I'm often writing serious literature at night. It's easy to get trapped in my serious professional world, or in the serious predicaments and characters in my novels. And often it's an effort to find the time to relax and stop taking the world so seriously.

So, to Ellen, I give a big shout of thanks! Thanks for hosting the Oscars this year, and for helping Oscar to shed it's stuffy, formal image with your great Selfie and Edgar the Pizza Delivery Guy. Thanks for bringing all of us, celebrity and viewer alike, down to earth every day with your generosity and a sense of humour with which we can all identify. Thanks, Ellen, for helping all of us to relax, to laugh, to be real, and to share our common humanity!

Alex Jones is a Clinical Psychologist and Author. His first novel, Walls, is now available in Paperback and eBook from major booksellers.