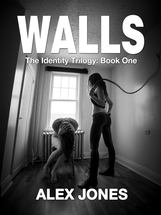 It's been an interesting week on the roller coaster ride of being an Indie author. I'm currently in that netherworld where Indie authors often find themselves - trying to write our next book, while trying to market our last. It was also a week of having some negative reaction to
Walls
from an unexpected source. Thus, it was a week of second-guessing how I chose to
Walls.
But that small setback was followed by finding affirmation for my writing goals and skills from another unexpected source.
Being an Indie author, where most of us have day jobs but must do our writing and marketing in our spare time, it's easy to lose site of why we started writing in the first place. For me, things got put back into perspective by an unforeseen meeting at my first book signing event yesterday.
Very early in the process of building a social media platform for marketing
Walls,
I found a Twitter follower who has a history of severe, ritualistic, BDMS-style sexual abuse. She has had to undergo extensive psychotherapy for her traumatic experiences, and is making slow-but-steady progress. She was hopeful that she might feel strong enough to read
Walls
when it was finished, and she has hopes of someday writing her own story. I was please and surprised when she showed up at my book signing, and told me that she had just finished reading
Walls
that very morning.
Anybody who has been a victim of trauma realizes how brave this woman is! The explicit sexuality and BDSM subject matter in Part Three of
Walls
are likely to trigger traumatic memories for anybody who has experienced severe abuse and trauma. Her feedback to me was that the book was very well-written, and the BDSM scenes were startlingly similar to what she experienced in real life. To her credit, although she had a strong emotional reaction to those scenes, she has advanced far enough in her psychotherapy that she now has the tools and skills to help manage those emotional reactions. I am hoping to invite her to write a Guest Blog for PsykoScribble in the future, when she feels strong enough to write about
Walls
and her real-life experiences.
I was deeply moved by my Twitter Friend's story and the feedback I received from her. She helped me realized why I began writing
Walls
and
The Identity
Trilogy
in the first place (see
Support Your Local Women's Shelters, Oct. 26, 2013
).
My goal has always been to use fiction to tell readers about the tragic effects of all kinds of abuse, to spur readers to think about the issues, to help change attitudes, and to push for social changes that will help to reduce or end all kinds of preventable, tragic abuses (see
Fifty Shades: Abuse or Lifestyle Choice?
, Feb. 27, 2013
).
I now realize the dilemma I created for myself. How do I take readers to the dark side of life in a way that is real? How do I sufficiently horrify, disgust, or shock readers with the realities that exist in our world, then give them hope that people can survive those traumas and abuse, and give them hope that society can change? The dilemma is the literary equivalent of walking on a tightrope over Niagara Falls.
The answer, of course, is that we can never please everybody (see
It's Not Art Unless Somebody Hates It!
Jan. 19, 2014). After receiving some strong reactions from a group of Indie writing peers regarding the sexually explicit nature of
Walls
last week, I started second-guessing myself. Were my descriptions of the dark side too graphic? Did I push the envelope too far?
Fortunately, my book signing and re-connecting with my Twitter Friend came at exactly the right time. Her feedback about
Walls
made me realize that I had successfully captured the essence of the reality of the sexual abuse she had experienced. She also felt that
Walls
was well-written.
I realize now, that if authors are going to write about life's dark side, we
must
make our stories gritty - sometimes even shocking - to evoke strong emotions from readers. It's our duty as authors to get people to think about important social issues. But we also have a responsibility not to emotionally strand our readers in the dark side of life.
In
Walls,
I start readers on a seemingly innocent journey into sexual exploration, where boundaries are blurred, and the characters are blind to the chaos that eventually ensues.
Walls
takes readers further into the darkness of domestic and sexual abuse, hopefully elicits a strong emotional response from them, then brings them back to a point where they can see the dawn - a ray of hope for the future of the novel's main characters.
As a completed work,
The Identity Trilogy
will take readers on a ride into darkness in
Walls
, then allow them to see a new dawn of hopefulness mixed with struggle in
Faces
, and finally celebrate the great inner strength of trauma survivors and hopefulness for the future in
Spirits.
After last week's Indie author roller coaster ride, I'm now glad that I trusted myself and followed my instincts when writing
Walls
. As with all other forms of art, I won't be able to please everybody with my writing. But yesterday's encounter with my Twitter Friend at the book signing has made me realize I have actually accomplished what I set out to do with my writing. I've pleased myself, and if I've done it well, I'm likely to please some other people too! So in the end, what could be more satisfying than that for an Indie author?
---
Alex Jones is a Clinical Psychologist and Author. His first novel, Walls,
is now available in Paperback and eBook from major booksellers.