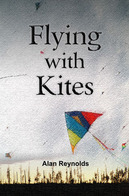 I have a new favourite Indie author after I just finished reading Flying With Kites by Alan Reynolds. From the very first page, I knew this book was going to be different from many of the Indie books I've read over the past year or two.

Don't get me wrong, I've enjoyed reading a great many books by my Indie peers. Most of those books have had extremely good stories and characters, and I can tell that their authors have poured their hearts and souls into them. But, more often than not, Indie books look unprofessional because of an abundance of typos, along with glaring errors with grammar and punctuation. It's what keeps very good books from becoming great books.

Not so in Flying With Kites, where the writing feels polished and professional from the first paragraph. Alan Reynolds is obviously a natural born storyteller, since Flying With Kites was written in a period of only three weeks in 2010, quickly developing a strong cult following after it's release.

Flying With Kites is the story of Katya Gjikolli, a Kosovan refugee during the 1990's civil war in the former Yugoslavia. The story documents her perilous journey through Serbian-held territory, being processed as a refugee, and ending up living in the squalor of a Macedonian refugee camp, before being evacuated and resettled in Newcastle, UK.

If this book was only about Katya's journey, it would stand on it's own merits. But the author has cleverly woven Katya's story together with a number of gripping subplots involving the existing residents of the apartment tower where she now lives. In the process, Alan Reynolds has woven a complex social tapestry for our reading enjoyment. In addition to it's strong plot, the book's characters are completely believable and psychologically complex. The author does a masterful job of giving us insight, not only into the horrors of becoming a refugee, but also into Posttraumatic Stress Disorder, existing social problems in urban centres like Newcastle, and the challenges that refugees face when trying to find a new identity in their new homes.

In the end, the author brings all of his subplots together, resolving them in a way that left me feeling totally satisfied as I swiped the book's last page on my eReader. But my short-lived feeling of satisfaction quickly evaporated with a masterful surprise ending that left me gasping for breath.

So, after reading Flying With Kites, I have bad news for all of my Indie author peers out there. The bar for getting a five star rating from this reviewer has just been raised, and Alan Reynolds' writing is the new standard to which I will now be comparing all Indie authors, including myself. I'm feeling up to the challenge, and I hope my Indie peers are up to the challenge as well.