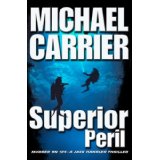 I've said it before, but I'll say it again. I'm so glad that I became an Indie Author! Since I began my journey into writing, I've had more fun interacting with the community of Indie authors than I ever imagined. One of the most enjoyable aspects of being part of that community is the opportunity to read and review a wider range of genres, styles, and authors than ever before. However, after venturing out and reading some books in unfamiliar genres over the past few months, I started to crave something from the genre I love most - murder mystery and suspense.

Fortunately, Superior Peril, by Michael Carrier, was recommended to me at just the right time. If you're looking for a book to satisfy your thirst for a suspense-filled murder mystery, you won't be disappointed. Superior Peril is the third book in the author's Getting to Know Jack mystery series.

When I downloaded Superior Peril, I did so without noticing that it was the third book in the series. However, to my surprise, the book survives extremely well as a stand-alone mystery. Carrier provides just enough back story along the way to keep us from feeling lost, while still keeping up the momentum of the main story. So, if you're like me, and you haven't read the first two books, Jack and the New York Death Mask or Murder on Sugar Island, don't panic! You will still enjoy Superior Peril!

The author revs up the action in Superior Peril almost immediately in Chapter One, and he doesn't let up. Every time you think that you are going to get a chance to catch your breath, something unexpected happens to ramp of the suspense another notch. Michael Carrier's characters, especially Jack Handler, a former Chicago detective, are strong. The story's setting in Michigan's Upper Peninsula, combined with an interesting historical premise, make the plot and characters truly unique.

So, whether you're a murder mystery junkie or you're looking to break out of a reading rut with something new and entertaining, I highly recommend Michael Carrier's Superior Peril as an excellent read.

Rating: ✭✭✭✭✭

Alex Jones is a Clinical Psychologist and Author. His first novel, Walls,
is now available in Paperback and eBook from major booksellers.