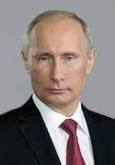 After this past winter's record-setting cold temperatures and snowfall, I'm currently putting the finishing touches of planning a vacation to Las Vegas to reacquaint myself with sunshine and heat. In addition to some sun and fun, I'm also trying to decide on which shows I'd like to see. Seeing something by Cirque du Soleil is automatic, and I have to admit I love seeing a great illusionist in action. However, after having seen the recent feats of slight-of-hand performed by Russia's Putin the Great, I fear that anything I see in Las Vegas will pale in comparison.

As both a writer and a psychologist, I'm always fascinated by studying people. And who could possibly make a more appealing study than Vladimir Putin and his extraordinary ego. Unfortunately, when I try drawing parallels to this man's personality and his abilities as an illusionist, I see far too many comparisons with what was going on in Germany in the 1930's.

You might recall from your history classes that Adolf Hitler was also a master of doing exactly what he said he wouldn't do. He lulled Chamberlain into a false sense of security at the same time he was readying his forces to invade Poland, with his eyes set on taking over all of Europe. He also used his attacks on the Jewish people as a way of distracting the German population from seeing the real political issues. Today, Putin is attempting to do the same thing with Russia's Gay community - creating a Gay issue to distract the Russion people from real political issues in the country. And is it a coincidence that Putin just finished showcasing Russia to the world with the Sochi Olympics, much like Hitler did with the 1936 Berlin Olympics? The parallels with Hitler-era Germany are too obvious to ignore.

So, what feats of illusion has Putin the Great performed recently? While the entire world was watching Putin's precious spectacle in Sochi, and was also distracted by the unrest in the Ukraine, Putin was readying his forces to sneak into the Crimea undetected. Does anybody else out there wonder whether it was a coincidence that the movement to topple the former Ukrainian regime also achieved it's critical momentum during the Olympics? One distraction to the east and another to the north of the Crimea - and voilà - Putin takes the Crimea. Doesn't it make you wonder whether the whole movement to topple the former Ukrainian regime was fuelled by Moscow. That's the beauty of illusion, right? What you see isn't necessarily what you get!

At the moment, the world is watching to see what happens with the massive buildup of troops along the Russian frontier with the Ukraine. That bothers me, because I'm more worried about what we don't see Putin doing, than by what we see. For instance, as a Canadian, I'm wondering if anybody else is worried about a ship full of Russian troops landing on some deserted, mineral-rich island in Canada's arctic and planting a Russian flag while nobody is looking. And if not Canada's arctic, where else might Putin's left hand be extending, while the world is watching his right hand? I'm hoping Stephen Harper and Barack Obama haven't been completely hypnotized by Russia's new master illusionist.

So you're probably wondering how all of this affects the shows I'm going to choose for my holiday in Las Vegas, right? Well, after watching Putin's recent feats of illusion, and fearing more to come in the future, I've decided that I've lost my appetite for illusionists. In comparison to Putin's brand of illusion on the world stage, even a good burlesque show seems innocent and wholesome. But all things considered, I think Cirque du Soleil and the Beatles' production of Love is looking like a pretty appropriate choice right about now.
Alex Jones is a Clinical Psychologist and Author. His first novel, Walls,
is now available in Paperback and eBook from major booksellers.