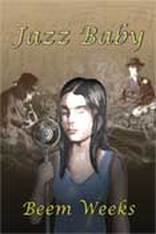 I've been on a good roll lately with some great reads of novels by Indie authors, once again confirming my belief that there are many Indie authors whose books are just a s good as those from the established publishing industry.

My latest great read is Jazz Baby by Beem Weeks. And in my opinion, this novel should become an instant classic!

Set in depression-era Mississippi and New Orleans, Jazz Baby is the story of Emily Ann "Baby" Teegarten, a young teen with a golden voice and big dreams, who is searching for her identity in the aftermath of her father's death and her mother's suicide. But, while she is attempting to follow her dreams of becoming a famous jazz singer, her Bible-thumping guardian aunt is also scheming to marry the young teenager off to the preacher's son.

The novel describes one year in Emily Ann's life - 1925 - where she finds herself navigating the dangerous world of speakeasies, whorehouses, drugs of the day (opium and cannabis), and organized crime. The young girl's reckless side brings her into contact with the dark, dangerous underworld. and almost costs her her life. By the end of that year, she has learned life lessons that make her wise beyond her years.

The plot and dialogue of Jazz Baby are gritty, realistic, and completely gripping. As both a psychologist and a writer, I found the characters to be complex and totally believable. Beem Weeks claims that it took him ten years to complete Jazz Baby: if so, his many years of toil were definitely not in vain. The smell of booze, smoke, sweat, and the sticky heat of humid southern nights ooze off the pages and creep stealthily into the recesses of readers' minds, creating an inner world where Emily Ann's silky smooth, bluesy voice follows her dreams and carries us away with her.

As an Indie author myself, I find Jazz Baby to be inspiring. It is incredibly well-researched, with authentic characters and dialogue that are completely believable. Although it is a study of personalities and behaviour in 1925, the author cleverly uses the deep south of 1925 to portray behaviours and traits that are universal across time, giving this novel a quality that should stand the test of time. Jazz Baby is a book that is worthy of eventually appearing on the big screen - it's that great! It makes me proud to be an Indie author, and inspires me to become as good a writer as Beem Weeks.

Simply put, Jazz Baby is must read! Make sure you download it to your eReader or buy the paperback today!

Alex Jones is a Clinical Psychologist and Author. His first novel, Walls,
is now available in Paperback and eBook from major booksellers.