Walls And The GOOD Woman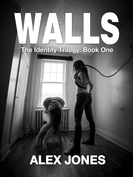 The week before this last Christmas was filled with great anticipation. Not only was the hustle and bustle of the holiday almost upon us, but it was also the week that Walls, my first novel as an Indie Author, was launched. Initially, things seemed to go very well as I proudly saw it appear in the Amazon catalogue. But after a while, I realized something had gone very wrong. Walls wasn't appearing in other major catalogues where it was supposed to have been distributed - Barnes and Noble, Apple, and Kobo. Day after day I kept checking, but all I saw were the works of other authors who shared the name Alex Jones with me.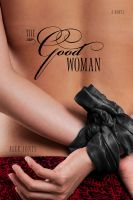 After a couple of days, one of those books by one of the other Alex Joneses, a female author from Oregon, caught my eye. Since I describe Walls as an erotic, psychological thriller and I'm targeting it for a predominantly female audience, I was drawn to The Good Woman, which was described as erotica for women. I decided to download it for future reading, but it sat in my Kindle library for months while I marketed Walls and began writing a sequel. It wasn't until I recently went on vacation for two weeks, that I was a finally able to catch up on reading The Good Woman.

It didn't take me long to realize that The Good Woman was similar in many ways to my own novel, Walls. Not only do both contain some scenes of intense erotica and exploration of BDSM, but both stories are explorations of the psychological complexity of their main characters. I was immediately interested in finding out how the other Alex Jones had tackled some of the same themes as I had in Walls. It soon became apparent that Walls and The Good Woman are a study in similarities and contrasts.

As regular readers of PsykoScribble might know, I'm a Clinical Psychologist by day and an Indie Author by night. As a Psychologist, I was particularly attracted to the plot of The Good Woman, the story of Mariana MacKiernan's erotic and emotional journey of self-discovery. Mariana (Mar) is a college Professor who appears to have everything going for her: a career in the subject she loves (art), a caring but work-driven husband, and two well-adjusted children, a son and a daughter. The one major flaw in Mar's life was her sex life - her husband was unimaginative and she had never had an orgasm. Full of self-doubt, she decided to seek sex therapy to solve her orgasm problem.

Similarly, Walls is the story of Psychologist Dan Whitney, who also seems on the surface to have everything going for him, including a successful wife and new career at a busy hospital in Detroit. The major flaw in his life is his marriage - his wife, Michelle, is distant and Dan is desperate to do anything to save his marriage to the woman he loves. In an attempt to put some spice back into their relationship, Dan and Michelle decide to break out of their conservative lifestyle, and to spend a week at a nudist retreat. Unbeknownst to Mar and Dan, both characters' searches for fulfillment take them on very unexpected erotic journeys of soul-searching and self-discovery.

Both stories are driven as much by the psychological complexity of their main characters, as by the plot. Walls studies the complexity of people who have been victims of past traumas and abuse, and how that affects the characters' personalities and lives in the present. It also tackles the moral and ethical issues Dan faces in having to choose between losing his wife or giving up some closely held personal and professional values. Similarly, The Good Woman tackles the complexities of life for women who are trying to balance being good wives and mothers, with feeling free to explore their sexuality and have satisfying careers. Mar is faced with choosing between the man of her dreams on one hand, or giving up her marriage and her children to pursue that dream. Both characters' dilemmas send them on unexpected, erotic journeys of self-discovery, and a reassessment of their priorities and values.

Although both Dan and Mar go on voyages of sexual exploration, there are some significant differences. In The Good Woman, Mar embarks on a purposeful exploration of her sexuality, although it is much more than the journey she had bargained for. But in Walls, even though Dan and his wife plan to be a bit naughty by stepping out of their clothing and their conservative lifestyles, Dan could not have predicted his journey of sexual exploration into swinging and BDSM. Both Mar and Dan are confronted with unexpected sexual attractions to enigmatic characters: Mar with the mysterious Dr. Gabriel Mendez and Dan with the exotic Francesca Capellini.

In a major contrast to Oregon's Alex Jones, I wrote about the same theme from the third person perspective, and I attempted the daunting task of have readers see through the eyes of all four main characters in different scenes in Walls. The last major difference between the two erotic novels is that Walls takes place over a period of just one week of Dan's life, while The Good Woman takes place over many years of Mar's life.

Obviously, I don't want to spoil the endings of both novels for you! But there is one similarity in both stories that I find intriguing. Both Walls and The Good Woman leave much that is untold. When reading The Good Woman, I found myself wanting to know much more about Gabriel's past life, about the secondary characters Max and Sylvia, and about Gabriel's life when he wasn't with Mar. I wanted to know more from Gabriel's perspective about the moral and ethical dilemmas that he faced as a Psychologist, when he falls for Mar, his client. And even though I've devoted some chapters in Walls to Francesca's past, there is still much that I left unsaid about her perspective on her own life story. I'm sure female readers of Walls would appreciate more of Francesca's perspective on the events in Walls.

Then I began wondering. What would Walls look like if it had been written from a feminine perspective, by the other Alex from Oregon? What would The Good Woman have looked like if it had been written from a male perspective, through Gabriel's eyes, and if it had instead been titled The Good Therapist?

Since I haven't yet had the pleasure of meeting the other Alex from Oregon, those questions go unanswered, at least until we meet. But after having written Walls, I thoroughly enjoyed the experience of reading The Good Woman. I couldn't stop myself from comparing and contrasting the two stories, with their similar themes and ideas. I learned more about writing while reading the other Alex's feminine, first person perspective. It stimulated my creativity and gave me more ideas for future writing projects.

While I originally chose to read The Good Woman out of angst and some insecurity on my part, the act of comparing and contrasting it to my novel Walls turned into a most enjoyable process. So, if you're the kind of reader who enjoys romance, erotica, complex characters and psychological suspense, I think you're likely to enjoy reading both Walls and The Good Woman together as a pair. Then, you too can draw your own comparisons and contrasts between these two unique novels - two different tales by two very different Alex Joneses!

Alex Jones is a Clinical Psychologist and Author. His first novel, Walls,
is now available in Paperback and eBook from major booksellers.