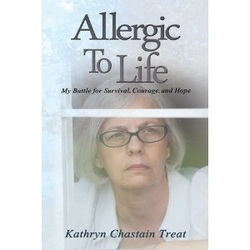 This edition of PsykoScribble is a departure from my usual topics. Instead of focusing on psychological aspects of books I review, this time I'm focusing on the medical issues raised by Kathryn Chastain Treat's book, Allergic to Life.

I've had mild to moderate hay fever type allergies since my early twenties, when I found myself sniffling and wanting to scratch my eyes out while helping my father stack freshly-cut bails of hay on his acreage outside Calgary, Alberta. When I had some difficulties recovering from winter viruses, I was eventually tested and found to have an extremely strong allergic reaction to mixed grass and tree pollens. Keep in mind that this is not a good diagnosis when you live in the foothills of Alberta, some of the lushest grass and pine country in the entire world!

When I moved to the province of Ontario twenty years ago, I continued to experience my allergies to trees and grass, but managed to avoid becoming allergic to Ontario's native Ragweed. Well, almost avoided - until three years ago when my symptoms now stretched from spring until the first heavy frost in October.

Up until two or three years ago, I considered my allergies to trees, grass, and Ragweed to be a yearly nuisance that I could tolerate with the help of allergy medications. However, beginning about three years ago, I began to become increasingly sensitive to fragrances in cleaning supplies, perfumes and colognes, and shampoos and body washes. Even worse, my allergy symptoms did a sudden migration, taking up residence in my lungs and morphing into symptoms of asthma that now affect my ability to enjoy being outdoors and to exercise.

So, when I saw Kathryn Chastain Treat's book, Allergic to Life, listed in the catalog of the Rave Reviews Book Club, it was one book I knew I had to download immediately. The problem of environmental sensitivities and allergies is a growing problem that doesn't get near the attention it deserves. It is one of those problems that, if you don't have it yourself, is very difficult to understand why others seem to be so badly affected, and why they just can't get over it. In many ways, having environmental allergies is like other tragic disorders like Chronic Pain or Posttraumatic Stress Disorder, disorders that aren't readily visible, and where other people are often unable to understand what victims are feeling. Sadly, when people can't see or understand somebody else's health problem, they don't see the need to do anything about it.

Don't get me wrong. Advances have been made over the past twenty years or so. We now know the dangers of taking a peanut butter sandwich to work or school, knowing it could cause somebody to go into a potentially fatal anaphylactic shock. Some more progressive workplaces are now implementing "Fragrance Free Workplaces", which is a significant step forward. But we still have a long way to go. Today, I can't go into most department stores or drugstores without holding my breath and making a mad dash through the maze of cosmetic and perfume counters, designed to entrap potential customers, keeping them from going elsewhere in the stores. And when I can't avoid taking a breath, the result is instantaneous - feeling like somebody has dropped a fifty pound weight on my chest, and an instantaneous headache, feeling like my head has turned into a pumpkin that could explode at any moment. Even once we're past the cosmetics area, the air in the store is still permeated by traces of those noxious aromatic substances.

Yet, compared with Kathryn Chastain Treat's nightmare journey over the past fifteen years, my problems are minuscule and hardly worth mentioning. Allergic to Life is, in reality, her journal of that fifteen-year nightmare that began with her unknowing exposure to mold in the school where she had just started to work. Her health problems began with a mold infection in her sinuses that became chronic and extremely resistant to anti-fungal and antibiotic medication, requiring a series of sinus surgeries to scrape out the offending mold. Even worse, the molds produced powerful toxins and carcinogens that attacked and poisoned her entire body, eventually leading to removal of all of her internal sex organs, which were full of high concentrations of toxins. Early stages of cancer were detected in the biopsies from some of those tissues!

The toll on Kathryn's life has been devastating, beginning with the weeks and months on end that she spent in a special treatment facility in Dallas, away from her family and social support. It was here that dedicated doctors were trying to identify the foods and environmental allergens that affected her, and were trying in vain to desensitize her to them.

Along the way, Kathryn managed to find a small core within the medical community that believed her, and became her allies in her fight against her body's allergic reactions. Eventually, her husband had to build her a separate "Safe House" - a structure built almost entirely of allergen-free materials. She has a limited number of safe foods she can eat, and safe clothing the she can wear. But she pays a steep price for her safety, having to live a life of relative isolation, where her loved ones must either change into "safe" clothing when they enter her house, or must wear Tyvek hazmat apparel when they visit.

Allergic to Life is an arduous read because Kathryn has documented most of her horrific ordeal in her journal over the years. One could argue that the book might have been condensed to make it more readable. But I think that doing so would have devalued Kathryn's story and diluted the seriousness of the whole issue of environmental pollution and allergens.

After reading Allergic to Life, in its entirety, I have to admire Kathryn's spirit of survival. Countless setbacks in her health over the years could easily have caused her to give up, yet she found the strength to continue and to survive.

As a person who has begun to experience the effects of environmental allergens and chemical sensitivities, I can barely imagine the nightmare the Kathryn Chastain Treat has endured over these many years. As a writer of fictional books, where I try to create realistic characters who are survivors of various kinds of abuse or trauma, Kathryn represents the kind of strong, resilient character and the spirit of survival that I admire, and that I endeavour to create in the fictional characters in my writing.

Kathryn's book is both educational and inspirational. If you enjoy reading memoirs, biographies, or books about current social issues, and if you enjoy reading about people who manage to overcome insurmountable obstacles, this book is definitely for you.

Now that I live in the Province of Ontario, with it's high summer humidity and cool basements, the battle against mold in our homes is an almost endless battle. Even worse, our newer, better-insulated homes limit air exchange, making it more difficult than ever to remove toxic chemicals from the air we breathe in our homes.

After reading Allergic to Life, I'm seriously considering having my home tested for mold contamination. Yet, at the same time, I'm terrified of seeing the possible results of that testing. If, like me, you are interested in becoming part of the movement to raise public awareness about the use of toxic fragrances and chemicals - much like we have managed to raise public awareness and reduce the amount of tobacco smoke we breathe - then I highly recommend Kathryn Chastain Treat's Allergic to Life as your next non-fiction "Must Read".

Rating: ★★★★
Alex Jones is a Clinical Psychologist and Author. His first novel, Walls,
is now available in Paperback and eBook from major booksellers.