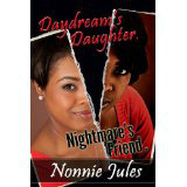 For those of us who are Indie Authors, the task of marketing our work is a daunting task that requires building a Social Media Platform, building social connections, and countless hours of work. As part of my ongoing interactions on Twitter early in 2014, I came upon a number of tweets from some other Indie Authors about a new cooperative book review effort: Nonnie Jules' Rave Reviews Book Club, so I decided to check it out.

It turns out that the club was the brainchild of Indie Author Nonnie Jules, author of Daydream's Daughter: Nightmare's Friend, with the help of a dedicated group of other independent author volunteers. The club is hosted through Nonnie Jules' Blog on Wordpress, with the purpose of reviewing and promoting the works of fellow author/club members. Over these past few months, I've read and reviewed some outstanding novels by some incredibly talented Indie Authors! As it turns out, it seems that I was able to get in on the ground floor when there were only about 30 or 40 members. Today, in the first week of June 2014, the club boasts nearly 500 members!

The club has grown so quickly, that it was announced this week that the Rave Reviews Book Club will now be charging a nominal membership fee for new members ($15 for a limited time; $25 afterwards). Those of you who may have been thinking of joining the club could be asking yourself: What will I get in return for my $15/$25 per year? It is a valid question. So, having watched the club grow dramatically over the past few months, I thought I would share my thoughts about the Rave Reviews Book Club for those of you who may be debating whether or not to join.

The biggest advantage of joining the club is having a place where you can post your latest book, so that readers and other fellow Indie Authors can feed their reading addictions, and then post reviews of your book on Amazon, Barnes and Noble, Goodreads, or other book blogs and forums. In return for your support in reading and reviewing other member-author's books, your book will be listed in the same catalog and will get the same exposure, and likely a corresponding level of support. The concept is simple, and is based on mutual cooperation! The big advantage is exposure to a group of avid readers who can, in turn, give your book a lot of positive exposure.

Nonnie, the club's President, along with a dedicated group of volunteer board members, run many different promotions every week and every month, including a weekly #PUSHTUESDAY, where members flood the Social Media with Tweets and Likes for the featured author. They also feature four Spotlight Authors each month, with added exposure in the form of author interviews, blog tours, and Twitterviews. Each month, a Book of the Month is selected for review and for members to discuss on an online, virtual forum. All author-members are required to read at least four books per year to retain active membership status, and to keep their book in the club's catalog, but two of those books must be Book of the Month selections. After that, members are free to select as many other books from the club's growing catalog as they like.

So, you might be asking yourself: What's to lose? Why wouldn't I join the Rave Reviews Book Club? Is there a downside to joining the club?

Ironically, until just this week, the biggest downside I saw to the Rave Reviews Book Club was its phenomenal growth and success itself! The club's catalog of "Book Club Selections for Review" has grown exponentially, making it difficult to decide what to read and to decide where you might want to focus your reading and reviews. After all, many of us also have day jobs and are juggling many different tasks including work, trying to write our next sequel, our family lives, reading for pleasure, and trying to market our books - all at the same time! I know I want to be able to focus my energy on the areas of writing in which I am most interested. Additionally, there is a second downside that potential members should consider. Because the club decided from the start to maintain a Family Focus, there is an inherent bias in favour of books that don't have a lot of explicit adult material. So, for example, as an author of Erotica, you might be unlikely to become the next Spotlight Author, or have your book chosen as the next book of the month.

Alright, so given the advantages and disadvantages of the club, and also given that the club is now charging $15 per year for new members, do I still recommend that Indie Authors join the Rave Reviews Book Club? Is it worth the cost? My answer is still an emphatic yes!

Rave Reviews still has a huge unfulfilled potential for growth and exposure for all of our books to the growing world of readers who are turning to cheaper, high-quality ebooks by independent authors! And, like all other clubs, the more energy and support you give the club, the more support you are likely to reap in return! Regarding the membership fee, I'm sure that Nonnie Jules is fast outgrowing her original Blog, and the club is in need of a site that is larger, and will better serve the club's needs. A bigger site means more cost. Additionally, I note that the club is now offering cash prizes to authors for various promotions, and these initiatives require a source of income. So, in my opinion, the $15/$25 per year membership is definitely reasonable, given the potential for increased exposure of your books.

Regarding the two disadvantages of club membership that I mentioned above - the club's large size and a potential bias against some kinds of books - I think those two disadvantages can easily be turned into advantages for the club. In my opinion, it makes a lot of sense to subdivide the club into a number of separate subgroups or sections, based on the genres of our books. For example, why not have distinct Non-Fiction, Memoirs, Young Adult , Paranormal Romance, or Science Fiction sections, each with their own catalogs to make it easier for readers to select the books we wish to read and review? Why not have a section devoted to authors of Erotica that is clearly marked for adults only, so that families can more easily steer clear of adult content that isn't appropriate for younger readers or people with more sensitive tastes, and easily monitor what their family is reading? Each section of the club could have its own Spotlight Author and Book of the Month selection each month, reaching even larger audiences! And to encourage authors to read outside their preferred genre, the club could still require authors to read and review a certain minimum number of books from sections outside their preferred genre.As it turns out, between the time I started writing this blog, and the time I posted it, the club has actually introduced separate tabs for many different book genres when you click on the Book Club Selections for Review (Catalog) button! I take this as a good sign that the Rave Reviews Book Club is responsive to suggestions from members, and is striving to continually improve the club.

All things considered, my overall experience with the Rave Reviews Book Club has definitely been a positive one, and I highly recommend membership for any Indie Author. The recent changes to the way the club's catalog is organized can ensure future growth for the club, and a multitude of rewards for more members. So, to all prospective Indie Author members of the Rave Reviews Book Club I say: Join today and get involved! Make this growing club even better, and make it a major player in the world of independent publishing. Make it a club that all Indie Authors can be proud of!
Alex Jones is a Clinical Psychologist and Author. His first novel, Walls,
is now available in Paperback and eBook from major booksellers.
Alex's novel, Walls, is listed in the Mystery, Thriller, & Suspense category in the Rave Reviews Book Club catalog. To find out more about the club, click on the Button below!