PsykoScribble is pleased to be one of the hosts for the Blog Tour for Rhani D. Chae's novel, Shadow of the Drill, sponsored by 4WillsPublishing. Alex wishes Rhani all the best on her tour over the next week!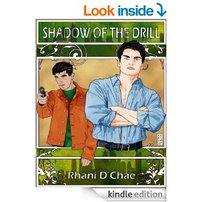 I've always loved to read and began writing in my early teens. My first novel was a Star Trek adventure that I freely admit was a complete disaster, but it was also a learning experience and I took it as such. After that I wrote a YA novel that was actually fairly good. I still have it, and one of these days I might dust it off, clean it up, and publish it.

Shadow of the Drill
is my first published novel, and is the first in a series that revolves around an unrepentant enforcer and the violent life that he leads. It's a harsh book, but I didn't think I'd be doing right by my characters if I wrote it any other way.
I spent quite a bit of time on the streets of Tacoma, Portland, and Oklahoma City when I was young, and the characters of Decker and Rudy are a composite of some of the enforcers that I met during that time. They were no-nonsense men, often brutal, and willing to do almost anything for a buck. Bu,t they also had their own code, their own unique way of looking at what was right, and what was wrong. The legal definition of those words held no meaning for them - they did their jobs by whatever means suited the purpose, all of which were technically illegal. Most of the street enforcers that I knew were simply bone breakers, using their fists and in-your-face intimidation to accomplish their mission. But there were a few who carefully crafted a reputation based on a much subtler style. What they did, happened behind closed doors, away from potential witnesses. Their methods were extreme, and often no one knew that the target had been taken...until the body was found -
if
it was found. They shielded what they had done, but the whispers still swept through the streets. The legend grew until the mere mention of a name was enough to prevent anyone from crossing a man who could afford to hire the best. It was my association with these men that allowed me to create 'my boys.'
I'm currently fighting my way through
Winter of the Drill
and it should be done soon. Once it is, I plan to finish the third novel in the Drill series and then give the boys a short rest while I work on the first book in a zombie series that I've been planning.
Thank you all so much for allowing me to share a bit of my journey with you today. To follow the rest of my tour, please visit
4WillsPublishing
. Alex, you were a great host and thank you so much for having me!
BIO:
RHANI D. CHAE has always been an avid reader. She enjoys chatting with readers and fellow writers via social networking sites and loves getting comments and other input from those who have read her work. So, please don't leave without sharing your comments.