Welcome to the first of what I hope will be many more interviews with deserving Indie Authors. Over the past two years, since I began writing my first novel,
Walls
, I've had the pleasure to read many novels by first time authors, many of them very good. Of those very good books, some of them are so exceptional, that I decided to occasionally invite on of those very talented and deserving authors to talk about themselves and their books on PsykoScribble. I hope that you'll enjoy getting to know more about these excellent authors and their work, and will go out and support them by downloading and reading their books!
In PsykoScribble's first ever author interview, I've has invited the author of
Jazz Baby
, Beem Weeks, to tell us more about himself, and about his writing. Since I've already reviewed,
Jazz Baby
a few weeks ago on PsykoScribble
(see PsykoScribble - May 21, 2014)
, I'll leave it to readers to check out my review
at your leisure. But for now, I'm proud to introduce fellow indie Author and
Rave Reviews Book Club
member, Beem Weeks!
AJ: So, Beem, when did you first think of being a writer?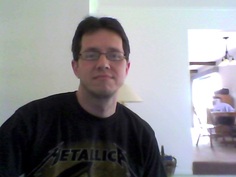 Beem: I first considered becoming a writer when, at the age of ten, I co-wrote a play that was performed in front of the student body at my school. But I'd been writing short stories since age eight.

AJ: And what inspired you to actually take the big step and start writing?

Beem: My third grade teacher inspired every student in her class to give writing a try. I recall more than one assignment requiring the writing of a short story, a poem, or an essay. I'd already been bitten by the reading bug since kindergarten, so writing, for me, seemed a natural path to travel. It became serious for me as I wrote concert and record reviews for my high school newspaper.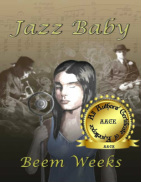 AJ: How did you come up with the idea for your novel?

Beem: Jazz Baby came out of a fascination I've long had with 1920s America. I recall many stories my grandparents shared from that era and just developed a vivid imagination for what life must have been like during the Jazz Age. I'd watch these amazing documentaries on PBS and the History Channel. Ideas began to form. It took years to research the era, to assure accuracy, and to construct a story that would entertain readers.

AJ: Can you tell us more about your main character, "Baby Teegarten"?

Beem: Emily Ann "Baby" Teegarten is a young white girl from a poor family. Her ticket out of poverty is an amazing singing voice, which she uses to sing spirituals in church every Sunday morning. Most people claim she sings with the soul and sound of a black girl, which suits the form of music she prefers—which is jazz. Baby is headstrong to a fault. She intends to get to New York to sing in the jazz clubs—by any means necessary. Fame and fortune is what drives her. But so does a budding sexuality, a taste for the party life, and a need to be seen as something other than the child she truly is. This gets her into situations no thirteen-year-old ought to ever have to face.

AJ: What do you think readers will enjoy most about Jazz Baby?

Beem: From the reviews I've received so far, it's the narrative voice of Emily that seems to resonate with readers. A few readers were drawn to the action enough to suggest I write a gangster novel for my next project. I'd like to think readers would enjoy the fact that I did a lot of research into the era and locations, creating a story with authentic details.

AJ: Have you been working on any other writing projects since you finished writing Jazz Baby?

Beem: I have a collection of short stories entitled Slivers of Life that should be published this summer. I'm still hard at work on my second novel, another historical fiction story called The Secret Collector. The novel is still a ways from publication.

AJ: How can readers and your fans contact you?

Beem: I'm on Twitter @VoiceOfIndie and @BeemWeeks. I can also be found on GoodReads. Just search for Beem Weeks and leave a message. I always respond to messages on GoodReads.

AJ: Thanks Beem, for being kind enough to be the first ever Indie Author interviewed on PsykoScribble! I'm sure we're all eager to read your upcoming collection of short stories later this summer, and your second novel when you have it ready for release.

For readers who are as intrigued as I was by the unique setting and storyline in Jazz Baby, I strongly recommend that you download it for your eReader. It's the best reading value for my dollar that I've had in the past year, and I hope you'll feel that way about it too! Click on the button below to find Jazz Baby on Amazon.com. Read the great reviews and download it today!

Alex
Alex Jones is a Clinical Psychologist and Author. His first novel, Walls,
is now available in Paperback and eBook from major booksellers.