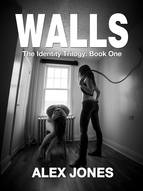 This edition of PsykoScribble is very different from any of my previous posts on this website. Where most of my blogs have followed a traditional format and have concluded with a logical ending, this edition presents a dilemma I've recently encountered while writing my first psychological thriller, Walls. And because it's a dilemma, and because I haven't found a solution yet, this blog is going to have an open, ambiguous ending like many a good novel.

Over the 11 months that it took for me to write Walls, I continually envisioned scenes in the book as they would look if they were scenes in a movie. I also listened to a lot of music on my iPhone or iPad while I was going through the editing process. So it's probably no accident, that I started noticing songs that really seemed to fit well with many of the scenes in the book. When that happened, I began to keep a playlist of those songs, which gradually turned into a soundtrack playlist for Walls.

As I continued editing, the number of songs in the playlist for my soundtrack continued to grow. At first, I toyed with the idea of actually creating a soundtrack CD to accompany the book. But as my playlist grew, I soon realized that the cost of downloading all the songs on my playlist from iTunes would be too expensive for most people to consider buying. In fact, it would end up costing many times more than buying the ebook itself! So I put my soundtrack idea on the shelf, but I continued to add to my soundtrack playlist and kept the idea in the back of my head as I got Walls ready for publication.

Despite the cost deterrent, I have continued to search for ways to economically pair a soundtrack with Walls. Short of finding somebody who wants to turn Walls into a Hollywood blockbuster, I realized I'm going to have to find a different, cost-effective way to add a soundtrack to the book.

When Apple announced the introduction of iTunes Music in 2013, I immediately began to wonder if this might be a way to bring readers a soundtrack they could listen to while reading my book. However, because I live in Canada and because iTunes Music has yet to make an appearance in this country, I still don't know if this is a way that my soundtrack idea can come alive.

So, what about other streaming music alternatives? Pandora, another alternative that was previously accessible in Canada, disappeared earlier this year because of legal issues. This is probably no coincidence, given the impending introduction of iTunes Music in this country. Once again, because the service is available in other countries, I haven't been able to determine whether authors, like myself, would be able to create playlists or dedicated stations that readers could access in order to listen to my Walls soundtrack. Google has also recently acquired the music streaming service Songza, which could provide another potential avenue for delivering a music soundtrack that readers could access while reading our books.

I feel like the time has come, and the technology exists, to allow authors to create soundtrack playlists to help authors increase their readers' enjoyment of our books. It's just a matter of finding a streaming music service with the ability for authors to create playlists or dedicated stations for their readers to access.

I welcome feedback readers, authors, and people in the music industry who may be doing this already, or who may have ideas about how we can accomplish this. To contact me, please visit my website at http://alex-jones-author.com/contact.html.

To see the interactive soundtrack playlist for Walls, or to suggest songs to add to the soundtrack, please visit the Soundtrack Page on my website at http://alex-jones-author.com/soundtrack.html.

I look forward to hearing from you!

Alex Jones is a Clinical Psychologist and Author. His first novel,
Walls
, is now available in Paperback and eBook from major booksellers.