A Fast-Moving Fusion of Romance and Suspense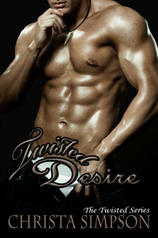 Having previously read and enjoyed all 3 books in Christa Simpson's Twisted Trilogy, I've been waiting to see what she's been up to as an encore. After changing direction in her recent
Finding Destiny,
the first instalment in her new
Destiny
Series, the long wait for another book in the
Twisted Series
is over! Simpson's follow-up to The Twisted Trilogy is a spinoff that features one of the secondary characters from her first three books, Abby's best friend Aliah Brooklin. Still down in the dumps from being jilted in the last instalment, Aliah has sworn to stay away from men. That is, until she meets the handsome Harley Gates, Private Investigator. Like Aliah, Harley has also been burned and has sworn off relationships. So what's the problem you ask? Harley has been hired by Brandee Hawkins, the crazy girlfriend of one of Aliah's longtime male friends, to find out if Aliah is having an affair with him. Sounds complicated, you say? That's only the beginning! When Harley and Aliah can't take their eyes off each other, causing Harley to break his cardinal rule of not sleeping with clients or subjects of investigations, his ethical dilemma becomes only the tip of this giant web of complications and deceit. With all that is going on it this story, it's no wonder that Simpson called this book
Twisted Desire
.
In
Twisted Desire,
the author breaks new ground. Where the
Twisted Trilogy
was told in the first person, from the perspective of the main character, Abby,
Twisted Desire
is written from a third person perspective - a point of view which better suits the complicated nature of the complex relationships between the many characters in this book. Christa Simpson is growing as an author. She's fine-tuned her writing skills to pack even more drama and tension into this story. And yet,
Twisted Desire
still delivers the same style of sexy, sarcastic romance that has become the author's trademark. So if you're looking for a fast moving combination of romance and suspense, I highly recommend this entertaining read by this popular author, who will soon become one of your favourites!
Rating: ★★★★★
Alex Jones is a Clinical Psychologist and Author. His first novel,
Walls
, is now available in Paperback and eBook from major booksellers.