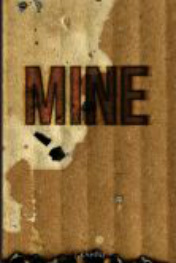 If you're a regular reader of PsykoScribble and some of my previous book reviews, you probably already know that I love books that have strong, well-developed characters. As a psychologist, the first thing I look for in a book is strong personalities who have flaws and emotional baggage. Sorry, but well-adjusted individuals may make great family, friends, and neighbours, but they make for boring characters in fictional literature.

I'm a firm believer that not every great book has to have a gripping, suspense-filled plot that reads like the screenplay of a Hollywood blockbuster. But, as long as a novel has well-developed, believable characters, the relationships and conflicts between them will go a long way to help create a story that grabs and satisfies readers.

Mine, by Janelle Kahele, is just such a book. It attracted my attention because it is about a topic, Domestic Abuse, that holds great importance to me as a psychologist, and plays a significant role in my own novels. Sadly, the legacy of domestic abuse is that it stalls a victim's normal emotional development, resulting in flaws in that person's coping styles and personality development that often scar its victims for life. This review is particularly timely, given the recent revelations of extremely unsettling domestic abuse by NFL player Ray Rice, that were captured graphically on security video.

The main character in Mine is Jenna Dotson, a naive seventeen-year-old high school student who works part-time in a dental office. When one of the patients in that office, United States Senator Benjamin Kramer becomes infatuated with her, she is swept into a surreal world where power and control are everything - a world for which she was ill prepared. Senator Kramer adores Jenna and gives her everything a girl could ask for. The problem: Benjamin Kramer is also insanely jealous and controlling. Even worse, he becomes a vicious abuser when his jealousy is triggered. Mine is the story of Jenna's rapid fall from her fairytale high school world into the never-ending abyss of domestic abuse, and her struggle to try to reclaim her own identity and her life.

MIne is written in the first person perspective. The writing is raw and unsophisticated, a rambling narrative containing annoying flaws like punctuation and grammar errors, and mixing perspectives or verb tenses, sometimes in the same paragraph. Initially, I found author Kahele's unsophisticated style irritating, and I almost gave up on it. Like most authors and book reviewers, I spend much of my time looking at books through spectacles that are searching for fine examples of the craft of writing. Mine certainly did not seem to fit in that category. But then I got it! I realized that the author's style of writing was perfectly suited to the young, naive, and unsophisticated Jenna Dotson. Because the story is told through her eyes, it had to be unsophisticated to be be effective.

Once I grasped Jenna's personality and her style of seeing and describing her world, it was easy to overlook the issues with punctuation, grammar, verb tenses and perspective, since they were a perfect match for Jenna's character. Does Mine have the perfectly-timed beats and fast pace of a typical thriller? Absolutely not. Even the most dramatic parts of this book are told with the same flattened emotions that I would expect to see in clinical practice from trauma victims who feel helpless, hopeless, and are severely depressed. In this, her first novel, Janelle Kahele has managed to paint a raw, gut-wrenching picture of the realities of domestic abuse that is perfectly crafted for it's tragic, deplorable subject matter. It fully satisfied my craving for rich characters that are flawed and completely believable. If that isn't enough, Mine has an ending that comes out of nowhere and takes your breath away!

While Mine is definitely not an uplifting read, it is most certainly a story that everybody should read, especially given the recent security video of Ray Rice, an influential public figure in real life, whose despicable acts of violence against his wife, are eerily similar to those portrayed in Mine. I highly recommend this book, and look forward to reading more from this talented novice author. Probably the only reason for not giving Mine a five star rating, is that I'm hoping Janelle Kahele's second novel will surpass the deft writing skills she gave us in this, her debut as an author.

Rating: ★★★★

Alex Jones is a Clinical Psychologist and Author. His first novel,
Walls
, is now available in Paperback and eBook from major booksellers.