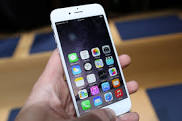 As a psychologist and writer, whose small business ventures have been powered by Apple for the last nine years, I've been watching this week's news reports regarding the so-called "Bendable iPhone" and "iOS 8 catastrophe" with great interest. Those of you who are familiar with this blog are probably wondering what the connection is between these notable Apple events, and psychology and writing. My answer is simple - today's blog falls under the psychological category of "C'mon People! Give Your Head a Shake!"

If you believe the newscasts and tech aficionados, this week's events could spell the fall of the Pride of Cupertino. Words like "tarnished reputation" are being thrown around with reckless abandon. If those predictions are true, then why am I suggesting that people need to give their head a shake and take a look at the real problem - the customers who bent their brand new iPhone 6 Plus or who forgot to backup their phones before upgrading iOS 8?

Let's start with the iPhone 6 Plus and the alleged problem with phones bending when people put them in their pockets. Having taken a little tour through my local Apple Store last week to see what all the buzz was about, I was appalled at the enormous size of the iPhone 6 Plus. This is mobile? This is progress? We've just spent the last thirty years miniaturizing mobile phones to the point where the iPhone 5 fit perfectly in our hands, and sat unobtrusively on our hips or comfortably in our pocket. If it did pinch inside our pocket a bit, it was small enough to wiggle it around and make it comfortable. Maybe it's just me, but I can't figure out what's so appealing about Samsung's gargantuan phones that Apple had to go against their better judgment and jump aboard the giant phone bandwagon.

So, let's play the devil's advocate. I'll concede that more and more people are spending increasing amounts of time watching YouTube, TV, and movies on their mobile phones. And we all know that video always looks better in HD on the biggest possible screens. Bigger is better, right? Okay, I get it. You want to take your HDTV/phone combo with you everywhere you go. This is great for the ladies - they have purses! But where's a guy going to store it? Where else but in his pants pockets, of course!

So here's where I'm having a lot of trouble.

Who in their right mind thought it was a good idea to put a huge honkin' $700 or $800 high-tech masterpiece in your back pocket where you can sit on it, or in your front pocket where your hip bends at a 90-degree angle? I'm just saying what everybody at Apple wants to say, but can't say out loud because it would be economic suicide. It's not the phone that's defective - it's the customers who stuffed their brand new high-tech phones in their pockets and sat on them who are defective!

Anybody with a little bit of common sense knows that when you put your wallet with your credit cards in your back pocket, those antiquated little slices of plastic with the magnetic strip bend into the shape of your butt, and usually get rejected at the worst possible time - like when it's the only card in your wallet with any credit left on it, or when the check-out line is ten people deep behind you. And when that happens, do you start screaming that the bank is to blame? Not if you're normal. Instead, you suck it up and order a new card from the bank. Or if you've really learned your lesson, you stop putting your wallet in your rear pocket and stop sitting on it all day! And in the case of your iPhone 6 Plus, you might try buying the biggest, most rigid Otterbox that money can buy to keep your phone from bending. Or in the case of the massive iPhone 6 Plus, maybe they should just call it the Walrusbox instead!

If anything, Apple's biggest fault with the release of the iPhone 6 Plus is trying to please everybody. Let's face it, the 6 Plus isn't so much a mobile phone, as it is a small iPad Mini - let's call it an iPad Micro - with the added capability of making phone calls and sending text messages. So why doesn't Apple just call a spade a spade and create a whole new category of mobile device - the phone/tablet Crossover? Why not continue to make larger tablets for those who need tablets, and smaller compact phones like the iPhone 5S for those who want the ultimate in mobile portability. But for those who want to have their cake and eat it too, why not keep the 6 Plus? Just don't advertise it as being a phone that fits in our pockets!

So, enough about the iPhone 6. What about the so called iOS 8 debacle this week? Did somebody at Apple fall asleep at the Beta-testing wheel? Absolutely - and those responsible should probably have their knuckles rapped. But the release of the faulty iOS 8.0.1 is not a catastrophe. I assume you all heeded Apple's usual warning and backed up your phone to iCloud before you upgraded to iOS 8.0.1. That way, you all had your phones up and running in about ten minutes after you found that there were problems with the iOS 8 upgrade. At most, it was a minor nuisance, right? Oh, you didn't back up your phone before you upgraded? I'm sorry to hear that. So, I guess that means you're just as much at fault as Apple, right?

Enough said. Microsoft survived despite the folly of Windows Vista, and Apple will survive this week too. After all, the teams at Apple are also human - just like the countless defective customers who buy (and abuse) their Apple products, then cry foul when their high-tech devices suddenly stop working because of their own abuse or neglect.

Alex Jones is a Clinical Psychologist and Author. His first novel,
Walls
, is now available in Paperback and eBook from major booksellers.