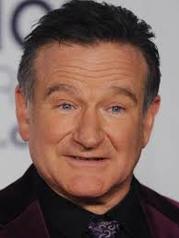 This edition of PsykoScribble is a blog that I never imagined having to write. From the very first moment I saw Mork from Ork, dropping out of time and space and into the Fifties in Happy Days, Robin Williams was my favourite comedian. Ultimately, with roles in movies such as The World According to Garp, The Dead Poet's Society, Good Will Hunting, and especially one of my all-time favourites, The Fisher King, he also became one of my favourite dramatic actors.

As both a psychologist and a writer, Robin William's brilliant creative genius, and the untimely nature of his death, raises some intriguing mental health issues. Like many other creative geniuses past and present, such as Albert Einstein, Sir Richard Branson, Bill Gates, Beethoven, Mozart, and countless other actors, artists, and inventors, it is well known that Robin Williams was affected by Attention Deficit and Hyperactivity Disorder. ADHD is a disorder that is caused by a chemical deficiency in the frontal part of the brain. If uncomplicated, it can be easily treated by medications. But, as noted recently in Zoe Kessler's article in PsychCentral, (1) sometimes, ADHD can be complicated by problems in other parts of the brain that often cause many people with ADHD to be extremely sensitive emotionally. And in these cases, the disorder can be much more complicated to treat (2).

So, you might be asking yourself: Why are so many people with ADHD so creative? I've had many a client over the years with ADHD who describe their thoughts as a constantly flowing "river of thoughts" that can be difficult to turn off (especially at night), and are a source of great distraction and problems on one hand.

On the other hand, if people with ADHD manage to harness the power of their river of thoughts, it can become a source of immense creative energy. Once harnessed, this non-stop cerebral flow allows them to think outside the box, to see situations in uniquely different ways, and to think much more spontaneously than others. For Robin Williams, his river of thought was like whitewater rapids during peak spring runoff. And when he decided to jump in and ride, the result was a chaotic roller coaster of belly-laughs for anybody in his path.

But, as mentioned above, there can be a very dark side to ADHD for some people that can turn the disorder into a double-edged sword. Unfortunately for Robin Williams, he may have been one of those people who have ADHD plus other chemical imbalances that make them emotionally over-reactive and sensitive. Even when they are brilliantly creative, children with ADHD often feel different and don't feel like they fit in with the other kids, causing them to grow up feeling inadequate or defective, and to have surprisingly low self-worth. They are also more vulnerable to alcohol and substance abuse, a problem with which Robin Williams also struggled. For many comedians like him, humour can be a way of feeling like they belong and are acknowledged by others. The laughter of their audiences provides short-term payoffs, much like a slot machine, but can never pay off enough to compensate for the inner sense of inadequacy, defectiveness, and depression that plagues many people with ADHD for most of their lives.
Tragically, Robin Williams succumbed to that dark side of his identity. But, the rest of us can be thankful for the gift of laughter, joy, and entertainment that he left behind in his legacy of movies and comedy routines. In return for that legacy, we all owe it to Robin Williams and the countless other people who are affected by mental illness, to continue to help those who suffer from mental illness of all kinds. We must ensure that we continue to focus on raising money for research and finding ways to provide meaningful psychological and psychiatric treatment for mental health disorders, now and in the future, to prevent similar tragedies from occurring.

References.

Kessler, Zoe; Robin Williams' Death Shocking? Yes and No. http://blogs.psychcentral.com/adhd-zoe/2014/08/robin-williams-death-shocking-yes-and-no.
Amen, Daniel G. Healing ADD. Daniel G. Amen, Berkeley Trade, 2002. http://www.amazon.com/Healing-ADD-Revised-Breakthrough-Program/dp/0425269973/ref=sr_1_1?s=books&ie=UTF8&qid=1410364917&sr=1-1&keywords=healing+add
Alex Jones is a Clinical Psychologist and Author. His first novel,
Walls
, is now available in Paperback and eBook from major booksellers.