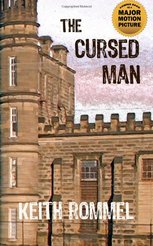 The Cursed Man, by Indie author Keith Rommel, is an ebook that I selected from the Mystery, Thriller, and Suspense catalogue of a notable eBook review club. Since I'm both a writer and a psychologist, The Cursed Man is a perfect fit for PsykoScribble's dual focus on writing and psychology.

The Cursed Man is the story of Alistair Kunkle, a man who has lived in isolation at a mental hospital for many years because of the terrible fate that awaits anybody who has any social contact with him. It is an ingenious portrayal of a man with severe Posttraumatic Stress Disorder (PTSD) as a result of living through severe childhood domestic abuse that ultimately leads to him escaping from his mother, who has just murdered both his brother and his father. From Rommel's writing, it is obvious that he has a deep understanding of the nature of PTSD and its effects on those who suffer from it. He keeps readers guessing, making it difficult for us to differentiate between Alistair's delusions and his reality. He even cleverly weaves religious undertones - a theme of everlasting life and sacrificing one's life so that others may live - into the story.

At first, the pace of Rommel's story is a bit slow. However, he manages to balance the slow pace with using this part of the book to develop his characters and allow them to fully blossom. While one could argue that too much time was spent elaborating Alistair's delusions, such a move would have detracted from Alistair's character development and the reader's true understanding of what it must be like to live with PTSD.

In the end, The Cursed Man is a great suspense novel, with the tension gradually building momentum until it peaks with the story's shocking climax. Like a great suspense story should, every time I thought I had this plot figured out, Rommel threw me another curve and left me second-guessing myself. Although this book's domestic abuse and mental health subject matter is difficult to digest at times, The Cursed Man is an intelligent, well researched, and thought-provoking piece of literature. It shows that Indie author Keith Rommel's brilliant treatment of domestic abuse and mental health issues is worthy of being published by the best of traditional publishers. I highly recommend reading this brilliant book.

Rating: ★★★★★
Alex Jones is a Clinical Psychologist and Author. His first novel,
Walls
, is now available in Paperback and eBook from major booksellers.