AUTHOR OF "TWISTED DESIRE" AND "THE TWISTED TRILOGY"
Regular readers of PsykoScribble will have seen my reviews over the past year of The Twisted Trilogy and Twisted Desire by Christa Simpson, a fellow Indie Author from Southwestern Ontario, Canada. Although contemporary romance isn't my usual choice for reading, I've thoroughly enjoyed Christa's style of writing, which she describes as "sexy, sarcastic" romance. Because I've enjoyed it so much, I thought I would take the opportunity to interview Christa and introduce her to readers of PsykoScribble. I hope you'll all enjoy meeting her and will consider downloading one or more of her books if you love reading contemporary romance!

Alex: When did you first think of being a writer?

Christa: I didn't really ever think of "being a writer". It kind of just happened. I've always loved writing and have enjoyed doing so recreationally since I was nine years old. After reading one too many stories that didn't end the way I wanted them to, I decided I would have to take matters into my own hands.

Alex: What inspired you to actually start writing?

Christa: I have to admit the success of the Fifty Shades novels and the rapid growth of self-pubishing was an eye opener for me. Yes, I was one of those, "If she can do it, so can I." It just felt like the right time to dip my foot in the pool. But I had never intended to publish my work. It was strictly for entertainment purposes, more to prove to myself that I could do it than anything. It wasn't until I finished drafting the Twisted Trilogy, after having fallen in love with my characters, that I decided it would be crazy not to share it with someone.

---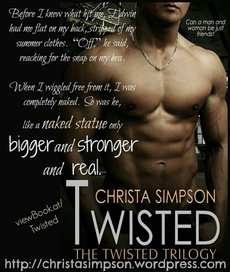 Alex: How did you come up with the idea for your novel?Christa:
My husband is and has always been my inspiration for all of my male characters. He's a handsome caveman, with a smart mouth, who continues to inspire my writing daily. My first novel,
Twisted
, got started with a simple idea: A man and woman can't be "just friends". This was something my husband had told me time and time again, mostly as a jealous boyfriend who didn't like me talking to other "boys".
Over time I had come around and admitted that many men only befriend a woman because he's hoping for something more. That became the idea that exploded into the Twisted Trilogy. I later decided to "twist" that idea to make my tag line: "Can a man and woman be
just friends
?"
Alex: Tell us more about your main character?Christa:
This part is the most fun.
The Twisted Trilogy
is written in the first person perspective from one woman's perspective, Abigail Jenkins', a sassy legal assistant who lives with her handsome housemate. It was easy for me to slip into her persona by giving her personality traits that were parallel to mine. But today it is Abigail who wants to tell you about her man.
Abigail Jenkins from the Twisted Trilogy:
Edwin Santora is a healthy, red blooded man, who's incredibly fit and likes to prance around my house half naked most of the time. It's hard to complain with a body like that, but I manage to get under his skin pretty regularly. We've had an on-again, off-again relationship for so many years I've lost track of the count.
The man gets a job at my law firm, as a new lawyer, just because he can. I like to act like it bothers me, but I think it's kind of cute. Seeing him working that business attire makes me swoon, but I do my best to hide it from him. I thought that I'd had my last touch of his rugged good looks, until Edwin manages to rub some of that charm off onto me yet again. He skilfully reminds me that we work good together and when he proposes that we enjoy the perks of living together, no-strings-attached, I can't resist. How can a girl not get addicted to a man like that?
If you want to know what it's like to live with a man like Edwin Santora, you're going to have to read my story. For only $0.99, you'd be crazy not to try it out.
http://viewBook.at/Twisted
But let me warn you, this man is irresistible. He will hook onto your heart and get you invested in the outcome of my story.
Alex: What do you think readers will enjoy most about Twisted?Christa:
Edwin is the one who encouraged me to continue writing. Granted he is a fictional man, but he had the words spilling from my fingers onto the keyboard and eagerly returning to the computer to find out what is next up in the story. He is what my readers seem to enjoy most about Twisted too.
Another thing you might appreciate is the pace of the story. I try to keep the boring out and fill those voids with moments of heightened suspense, entertaining dialogue and a sweet romance that will make you yearn for the characters to consummate their relationship, which they do - multiple times - in a number of creative ways.
Alex: Are you working on any other writing projects?Christa:
Absolutely. You couldn't stop me from writing if you tried. My Twisted Trilogy has expanded, thanks to my fans for telling me what they want. I've already given Abigail's best friend her HEA in Book 4,
Twisted Desire
. It's a stand-alone romantic suspense that I released back in July. Unlike Twisted, which was a new adult romance, it's a mystery, packed with action, suspense and romance.
Tag line: Find the girl. Trick the girl. Collect the reward. His plan was fool proof.
There are more books planned for this series, but I've taken a break from it to give attention to another series I'd like to tell you about.
Earlier this year, I published a Best Selling contemporary romance,
Finding Destiny
, the first in The Destiny Series. Destiny, in book one, finds her HEA. For $0.99 you can find it too. It's set in Northern Ontario, which I quite enjoyed. Right now I'm working on Beautifully Broken, Book 2 in that series. Here's my working
synopsis
for it. There's more to read on my book page:
http://christasimpson.com/beautifully-broken
---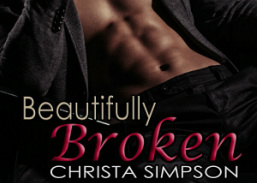 BEAUTIFULLY BROKEN:Matty was good at fixing things…
He quickly learned that people were a little more difficult to put back together. After suffering from an accident that stole his mobility, Matty struggles to find himself, let alone the woman who had stayed with him for hours while he was pinned between two vehicles, barely grasping at life while they waited for the rescue crews.
He was supposed to die…
If it weren't for Felicia, he would be dead. She was a strong, sassy gal, who ordered him to live. And he did. But when the rescue crews arrived, they whisked her away, just as a blackness enveloped him. He's been living in that darkness ever since. Depression swallows his resolve to find her, while he works to mend his broken body and nurse his broken heart.
Driven back into each other's arms…
Can they play nice? Sure, they know their way around the bedroom together, but what about socializing in public? Will they be able to get past the accident that had pulled them together and tore them to pieces? Or will the weekend they reunite be enough to do them in for good?
Alex: What do you enjoy reading and who are your favourite authors?Christa:
Ever since I've become an indie author, I've been paying it forward by reading mostly indie. A little bit of everything from everyone. To tell you which traditionally published authors inspired my writing most, whom I still read avidly, I would have to say Jayne Anne Krentz and Lori Foster. Both write an intriguing romantic suspense, with the romance on the front line, keeping the pages flying through my fingers. That's what I enjoy most.
Alex: What do you enjoy doing when you're not writing?
When I'm not writing, you'll find me dancing around with my girls, watching movies with the hubby or, my favourite, when the weather permits, relaxing on the beach, soaking up the sun and dreaming up my next best seller.
Alex: How can readers contact you?Christa:
I'm always happy to connect with writers/readers/bloggers and am available via email at
csimp@live.ca
.
I'm social and am happy to follow back authors and book bloggers, but it's not always a given. You have to ask nicely. 😉 Here's where you can find me:
A visit to my website is welcomed and encouraged!
http://christasimpson.com
Facebook:
www.facebook.com/authorchristasimpson
Street team:
http://christasimpson.com/2013/10/30/join-my-street-team/
Twitter:
www.twitter.com/_christasimpson
Google+:
www.google.com/+ChristaSimpson
www.google.com/+ChristaSimpsonAuthor
Pinterest
www.pinterest.com/christamsimpson
Goodreads:
www.goodreads.com/christasimpson
One final plug… check out my publisher:
Black Widow Publishing
, if you have a chance. 😃 😃
Many thanks for having me. I wish you and your readers all the best and look forward to connecting with you in the future.
---
Alex Jones is a Clinical Psychologist and Author. His first novel,
Walls
, is now available in Paperback and eBook from major booksellers.