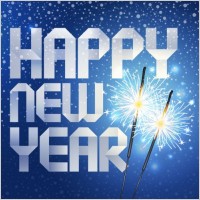 Well, it's that time of year again - time for everybody to make our annual resolutions of things we want to change in the New Year! Most of the time, this tends to involve trying to change bad habits or to remove negativity from our lives. And every year, we hear statistics about how unsuccessful most of us are at keeping our New Year's resolutions.

Why are we so unsuccessful at keeping them, you ask? As a psychologist, I know that one of the basic principles of behaviour change is that in order to stop one behaviour, we need to replace it with another. If you want to stop smoking or overeating, what are you going to do instead? We need to find new activities that take the place of the old habits - hopefully things that we enjoy, that will add quality to our lives and help to create positive emotions like joy, satisfaction, and pride. In other words, we need to try something new and different!

As a psychologist, it's up to me to be a role model. If that's the case, you're probably going to ask me what new activities I've resolved to do in the New Year? The answer lies in what I do in my leisure time. While I may be a psychologist in my day job, I'm also an Indie Author on the weekends and by night. One of the lessons I learned in 2013, while editing my first novel, Walls, was to apply some basic screenwriting skills to my novel to make it more dramatic and more concise. And while I think that exercise helped make Walls a quality psychological thriller that readers have enjoyed, the process of writing the sequel to Walls has convinced me that I need to go further in that direction.

So my challenge for this year is to collaborate with a real-life screenwriter to turn Walls into a marketable screenplay. In order to do so, I'm going to have to challenge myself to learn much more about screenwriting. And believe me, seeing our first draft of the Walls screenplay, and seeing how much needed to be cut from the script, and how concise the dialogue needed to be, has been a real eye-opener for me so far.

So what do I gain from this challenge? The things I have learned so far in the screenwriting process have opened my eyes to how I should proceed with editing my next novel, Faces (the sequel to Walls). It has even convinced me to alter my style of writing more dramatically for the third instalment of my trilogy,down the road. When that time comes, I'm going to attempt to write the screenplay first, requiring me to be much more exacting and precise with my story and dialogue. Once that is done, I should be able to put more flesh on the bones on the screenplay, and turn my third novel into the best psychological thriller of the entire trilogy.

My New Year's writing challenge, and the new skills I'm trying to learn, have me pumped and energized as I enter 2015. And in the end, isn't that what we all want from a New Year's resolution? All we really want is a chance to replace our old habits with new skills and activities that motivate us to keep moving forward, and energize us to be happiest and the best we can be at whatever we do.

So, to all of my PsykoScribble readers, I'd like to wish each and every one of you a happy, healthy, and challenging New Year! And good luck with those New Year's resolutions!

Alex Jones is a Clinical Psychologist and Author. His first novel,
Walls
, is now available in Paperback and eBook from major booksellers.