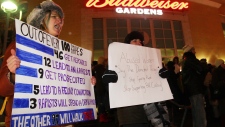 It's not very often that something exciting happens in the small southwestern Ontario cities of Kitchener/Waterloo, where I live, that grabs international attention. But last week was an exception. After many weeks of controversy surrounding Bill Cosby and a number of alleged rapes over a period of many years, Cosby kicked off a Canadian tour after months of inactivity, with a show in our fair city. The event had been the source of controversy for many weeks leading up to the show. Debate raged regarding whether or not the local auditorium should cancel the event. Do things look bad for Bill Cosby right now? Absolutely; and I'll be the first to admit that, in the court of public opinion, things look very bad indeed.

The two sides of the Cosby controversy are clearly polarized: those who oppose and want to end all forms of abuse and violence, especially against women, versus those who are reluctant to rush to judgment until the justice system has had a chance to decide Cosby's guilt or innocence. Protesters of the comedian's show organized an alternative event at a local nightclub, with benefits going to a local women's shelter, in hopes of luring ticket holders away from the show. But at the same time, Cosby's audience gave him a standing ovation at the end of his performance.

I have personally found myself in a quandary about this event. Readers of PsykoScribble will know that I'm a staunch advocate for anything that will put an end to abuse of any kind. I'm personally donating a percentage of the royalties from my first novel, Walls, to the same local women's crisis center and shelter that benefited from last week's alternate event. On the other hand, I am equally upset in any case where I see that a person is wrongfully accused of a crime, or is convicted in the court of public opinion before he or she has had their day in court. This is especially true when the charge is a serious one such as sexual abuse, murder, or both. Just as sexual abuse ruins lives, so does wrongful conviction. And therein lies the dilemma, not just for me, but for society as a whole.

I personally knew a professional who was once charged with sexual abuse. Although he was not convicted in court, he had already been convicted in the court of public opinion long before his case went to court. The charges ruined his reputation, his professional career, and his life. He ended up committing suicide.

The dilemma for society is how to maximize convictions for perpetrators of sexual abuse, while minimizing wrongful charges and convictions that can also potentially destroy the lives of the accused. Since no system is perfect in differentiating between the guilt and innocence, there are always going to be errors in the system. At present, our current system is tipped in favour of preventing wrongful convictions, at the expense of not convicting some people who probably have been perpetrators of sexual abuse.

In Bill Cosby's case, because most of the alleged rapes occurred many years ago, there is very little chance of finding physical evidence of the alleged crimes. It becomes a case of Cosby's word against the word of many alleged victims. It would have been much better for everybody if the charges had been brought forth many years ago, immediately after the alleged abuses occurred. But that isn't the case.

It is very difficult to increase the conviction rate for any crime without also increasing the rate of errors and wrongful convictions. A similar debate is being raised as society struggles with the apparent need for more intrusion by police forces to identify home-grown terrorists, versus the need to protect our civil liberties. We can't increase one without affect the other. So the question we face is how to resolve the dilemma? What is the solution? And should Bill Cosby's Canadian shows have been cancelled because of the claims that have been made against him?

For me, the quick answer is no, the shows shouldn't have been cancelled, because like it or not, Bill Cosby hasn't been found guilty of the alleged crimes. But the real answer is never quick or easy. The longer answer is that we must all work to change the current law enforcement and legal systems in a way that encourages women to report violent crimes against them as soon as possible, so that we have a system that validates their reports and immediately searches for physical evidence to corroborate the victims' stories. This will decrease the time between crimes and investigations, increase the chance of finding corroborating evidence, and increase the rate of conviction of rapists, while minimizing the chance of errors that could result in wrongful convictions. And of course, we need to work as a society to install the idea in all boys and men that sexual abuse and violence against women is not to be tolerated. Ever!

If we are able to make significant changes to the current systems, perhaps we can also avoid any future controversies like the recent debate surrounding Bill Cosby's shows in Kitchener/Waterloo and other Ontario cities. With those changes, society would have law enforcement and justice systems that work better for victims of sexual violence and domestic abuse, while minimizing the chances of errors that result in wrongful convictions that ruin the lives of those who are wrongly charged or convicted.

No system can be perfect. But those who protested Bill Cosby's recent concert swing through Southwestern Ontario definitely have a valid point. The current system in most countries is woefully inadequate and is in need of drastic change. The victims of domestic and sexual abuse deserve that change. But, so do those who have been, or might be, the victims of a rush to justice in the court of public opinion, or who have been wrongfully charged or convicted of those crimes in the past.

I realize this is a very contentious issue for many people, and I welcome your comments. What do you think?

Photo: Protesters outside Cosby Performance in London, Ontario. (Dave Chidley / THE CANADIAN PRESS)

Alex Jones is a Clinical Psychologist and Author. His first novel,
Walls
, is now available in Paperback and eBook from major booksellers.