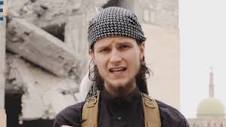 Like the rest of the world, I've been looking on with horror at the rise of ISIS and the rise of home-grown, extremist terrorists in Western countries. Canada has not been immune to this problem, as evidenced by the video of Canadian John Maguire, who left Canada to fight, and perhaps die, fighting for ISIS. As a psychologist, I can't help but be intrigued by what is going on psychologically in the minds of today's new breed of terrorist.

The obvious question is "Why?" Why would young people become so angry towards the culture in which they grew up, that they would seek to destroy it? The answers lie in history - both world history and also the individual histories of these disillusioned young idealists.

As a teenager, I was fascinated with history and biographies. I gobbled up books like Winston Churchill's biography and William Shirer's The Rise and Fall of the Third Reich. The part of Rise and Fall that I remember most was Adolf Hitler's youth. He was a young man at the end of World War I, when the Allies imposed incredibly harsh economic sanctions on Germany, which were compounded in the following decade by the onset of the Great Depression. It was notable that Hitler was an extremely disillusioned young man who was constantly looking outside of himself for something, or somebody, to blame for his misery. He found his scapegoat in Europe's Jews.

Okay, I know what you're probably thinking - we're not living in post-WW I Germany. As true as that may be, we are living in a time of the worst economic uncertainty since Hitler's time. World-wide unemployment, especially in some European countries, is at levels that have not been seen for generations, creating a generation of disenfranchised young adults who are angry and hopeless about their future.

This is where personality development comes into the picture. One of the most common defects in personality occurs when people develop a defect that we call an excessive External Locus of Control. In this way of thinking, when people fail to develop an internal sense of competency, self confidence, and a sense that they can survive in this world, they begin to become obsessed with trying to change things - other people or even society as a whole - that lie outside themselves. Many of the people who develop this type of personality also feel like victims, and they feel disenfranchised and neglected by society. They become so focused on their own problems, that they gradually become antisocial and lose their ability to have empathy for others around them. The combination of looking for external sources to blame, and the inability to feel empathy is a deadly combination. This is exactly what happened to Hitler. Organizations like Hitler's Third Reich and today's ISIS appeal to the disenfranchised - it offers them a place where they feel like they belong and are understood, and it gives them an illusion of hope that they can change their external world.

Unfortunately, in my day-to-day practice as a psychologist, I have seen this kind of personality much more frequently over the past few years. A generation of young people, mostly young men, but also some young women, are unemployed and living in basements playing video games that numb them to war and killing.

So the bigger question becomes "What can society do to stem the tide of discontent, and to get this generation moving back into the mainstream of society again? As a psychologist, I see an enormous need for society to create opportunities for our young people to connect with their external world in a way that helps them to learn skills and to build their own self-confidence. But more importantly, we need to create opportunities for them to develop empathy - to learn to put themselves in the shoes of other people in other parts of the world.

Some classic experiments in Social Psychology have shown that if we put people who are racist, or who have committed crimes against others, into situations where they have to work alongside their victims, they get to know their victims as human beings and gradually develop a sense of empathy and understanding of others. So what would happen if society finds ways for our unemployed, disenfranchised youth to work alongside people in the world who need our help? Could we create an army of young people that works towards rebuilding the lives of people who need help? Could they learn to embrace peace, and learn to have empathy for other people in this world? If we can't find them jobs, maybe we can at least find ways to give them positive volunteer experiences.

Sounds almost impossible, right? Not so. In fact, just such an organization has existed since 1960, when it was introduced in the United States under the watch of John F. Kennedy. The organization is the United States Peace Corps, an army of volunteers who work in third world countries to help the less fortunate. Perhaps if our Western governments devoted as much money for building and properly funding similar organizations, as they do for building military forces, we could provide ample opportunities for our unemployed young people to work alongside people from other countries. We could build corps of volunteers who learn how to help and to feel empathy for others, instead of learning to hate and to see those same people as scapegoats for their own problems.

So perhaps it's time for Western nations to provide our young adults with more positive alternatives to the ideology of hatred offered by ISIS. Some countries like Israel and Switzerland require their young people to serve in their armed forces. With elections due this year in Canada and next year in the U.S., perhaps this is an idea that would resonate with the voting public. Instead of serving in the military, maybe the time is ripe for Western Nations to require our young adults to serve our countries by volunteering to make this world a better place?

Alex Jones is a Clinical Psychologist and Author. His first novel,
Walls
, is now available in Paperback and eBook from major booksellers.