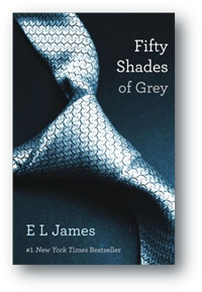 Like millions of others, I've been waiting for a chance to see what Hollywood did with E.L. James' brilliantly successful Fifty Shades of Grey Trilogy. I knew ahead of time that the critics have shredded this film. But seriously, what were they expecting? Merry Streep and Al Pacino in a dramatic masterpiece? Everybody knew ahead of time that Fifty Shades was written for young women who love to reading romance novels - "Chick Lit", if you will. But nothing prepared me for what I witnessed at my neighbourhood theatre last night.

In a theatre that was about 70% full, I was a middle-age, male fish out of water! I was one of only a handful of males, there to review the movie for this blog. The other five men, I'm sure, were only there because "girl's night" didn't materialize for their girlfriends, who didn't want to go to the film alone. I could also count the number of people over 45 on one hand. I knew that the target audience for Fifty Shades was young women. But it's the first time I've ever seen anybody find their target audience so perfectly!

Why an I so interested in Fifty Shades of Grey? To make a long story short, I was in the process of writing a novel - an erotic, romantic thriller titled Walls, during the height of popularity of the Fifty Shades trilogy. I wanted to see what made it so popular, but I also wanted to make sure that my story was different, so reading the trilogy was a necessity for me. Furthermore, having recently adapted Walls into a screenplay, I wanted to see how Fifty Shades of Grey adapted to the big screen.

So, having read the Fifty Shades trilogy, I can see how it could potentially be a screenwriter's and producer's nightmare. The first book is fresh and interesting, even if it's not a literary classic. Book two had enough drama to hold my attention. But after that, I found book three to be downright boring. I can only imagine the film producer trying to figure out how to prevent the movie trilogy's third instalment from being a cinematic and financial box office bomb.

However, while the movie execs might be looking for more drama and thrills from the third instalment, let's not forget E.L. James' target audience. They want exactly what book three of the Fifty Shades trilogy had to offer. For them, a happy, romantic ending isn't dull - it's the pot of gold at the end of the rainbow!

If that's true, why would any movie exec in his or her right mind ever consider changing the formula that sold millions of books? All Hollywood has to do is keep the film versions of the Fifty Shades trilogy true to the books. And personally, I think that Sam Taylor-Johnson's film version of Fifty Shades of Grey did just that. I thought the nudity, sex, and the final BDSM scene were filmed artfully and with sensitivity, showing more than Hollywood would normally dare to show, but leaving much to our imaginations. The set designs were almost exactly how I had imagined them when reading the novel, a tribute to both E.L. James' writing and the film's set designers.

I loved that much of this film was devoted to developing Anastasia's and Christian's characters. I thought Dakota Johnson did a more than credible job contrasting Anastasia's naivety with her developing sense of confidence and inner strength. Jamie Dornan did the same, allowing the cracks of insecurity to show in his portrayal of the man who has learned to dominate both the world of business and the women in his life. And like the Fifty Shades of Grey novel, the film version leaves us hanging after Anastasia decides to walk out on Christian, after giving into her curiosity about his BDSM dark side, and being shocked and disgusted by her experience. As for the ongoing controversy about the merits or dangers of the BDSM lifestyle, I've already addressed that issue in some of my previous blogs, so I'll set that debate apart from this review. (see Fifty Shades: Abuse or Lifestyle Choice; Jian Ghomeshi's Tale: Life as Sordid & Tragic as Fiction)
Because I set realistic expectations for Fifty Shades of Grey, the movie, I wasn't at all disappointment with the film. In fact, I thought it was relatively faithful to the novel and wasn't anywhere near as awful as most other critics thought. The film version of Fifty Shades of Grey was good, old fashioned romance with a modern erotic twist - what E.L. James calls "Provocative Romance". That's what her target audience came to see. And from what I witnessed at my local theatre, her audience wasn't disappointed. Like those fans, I'll be looking forward to the sequel, which should have more action and drama than the first instalment adding some spice to the romance.

Rating: ✭✭✭✭ out of 5

Alex Jones is a Clinical Psychologist and Author. His first novel,
Walls
, a romantic, erotic thriller, is now available in Paperback and eBook from major booksellers.
---