EXCERPT FROM FACES
The Identity Trilogy: Book Two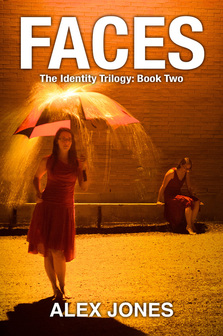 Chapter 1

A nondescript grey mini-van made its way down Blanshard Street towards downtown. It was ten-thirty a.m. on a sunny late April day in Victoria, the picturesque capital of British Columbia. The blond-haired man behind the wheel drove cautiously, making sure to avoid doing anything that would attract attention to the vehicle.

"Are we almost there, Daddy?" asked the five-year-old boy in the back seat. A brand-new Blue Jays baseball cap covered his freshly shaved hair and cast a shadow over his face.

"Yeah, almost there," the driver mumbled. He turned to the woman seated beside him in the passenger seat. "Can you keep him quiet? All we need is for him to open his mouth and wreck everything. Do your job, Beth!"

The van made a right turn onto Bellville Street. The harbour and the Empress Hotel came into view.

"Look, Jonah," the woman said. "There's the harbour. We're almost at the ferry. Do you remember how important it is to remember our story? We don't want the bad people to catch us, do we?"

Jonah's mouth turned down at the corners, a confused look covering his face.

"Why are the bad people chasing us? Why isn't Mommy coming?" he asked.

"Shhhh!" Beth whispered. "Remember, we're pretending that I'm your mommy right now. If the man at the ferry asks you what your name is, what do you say?"

"John … John Dailey Junior," Jonah said by memory.

"And what's your dad's name?"

"His name's John Dailey too. And your name is Elizabeth Dailey. You're my mom," Jonah said.

"Excellent," the woman said. "You're going to do a good job of fooling the bad people."

"But why isn't Mommy coming with us?" Jonah repeated.

"I've already told you!" the driver shouted. "The devil has sent some very bad people who don't like Daddy's church. They don't like us spreading God's word, so they're spreading lies about Daddy and our church. If Mommy comes with us, they'll be sure to find us all. So Mommy is going to stay at home for a while. In a few days, she's going to try to run away from the bad people so she can be with us in Seattle. Now, smile and pretend that we're a happy family. We're going to visit Grandma and Grandpa, okay?"

"Okay," Jonah pouted.

Soren Kristiansen slowed the van as they approached the ferry terminal.

"You've got the passports ready?" he grunted to Beth.

"Yes, don't worry. I've got everything. Just relax."

"Don't you worry about me," Soren snorted. "Just make sure you and John Junior don't screw things up!"

Soren made another right turn onto a short road that carried them down a ramp to the Black Ball Ferry Terminal. He pulled up to the ticket booth and rolled down his window. A cheery middle-aged woman greeted him.

"How many passengers?" she asked.

"Two adults and one child," Soren answered.

"Do you have acceptable photo ID for entry into the U.S.?" the woman asked.

"Yes, we all have passports." He turned to Beth. "Do you have those passports, honey?"

Beth smiled and handed the passports to Soren.

"You'll need to show those at U.S. Immigration Pre-Clearance, just ahead. That'll be seventy-five dollars."

Soren handed the passports back to Beth and reached for his wallet, counting out a number of bills and handing them to the ticket agent.

"Thanks, sir. Have a pleasant trip."

"Thank you, ma'am. You have a nice day too," he said, flashing his warmest smile at the agent. He turned his head and looked at Jonah in the back seat.

"Okay, Jonah. This is it. All you have to do is remember that you're John Dailey Junior, and Beth here is your mom. That's easy, right?"

"Yes, Daddy."

Soren focused ahead at the security cameras, mounted on posts as the ramp descended towards U.S. Immigration. He donned his dark glasses and ball cap, making sure not to show his newly cut, very short blond hair.

"Okay then, everybody. Put on your best smiles!" he said.

Soren let his foot off the brake, allowing the van to creep along down the ramp behind a line of other vehicles, making its way towards Customs pre-clearance.

The M.V. Coho slowed as it neared its mooring at the ferry terminal in Port Angeles, Washington. Clearing immigration pre-clearance in Victoria had gone without a hitch. The trio's crossing of the Strait of Juan de Fuca had been smooth. The almost fifty-year-old car ferry swayed gently from side to side with the small swells that rolled from west to east through the passage.

Deep inside his body, Soren felt energized by anticipation, like an athlete preparing for an important game. He was psyched. He looked at Beth and Jonah, who both looked tense. There was only one other thing that could possibly go wrong. But Anika was still at work, and she wouldn't be picking Jonah up from kindergarten for another two hours. She wouldn't even know yet that her son was gone. Soren donned his dark glasses and removed his cap, making sure his new look was captured on security video surveillance.

"Smile and relax, you two," he said. "Just make believe you're visiting Grandma and Grandpa, Jonah. Show the officer how excited you are to be in the United States. And Beth, just pretend we're really visiting your parents. Everybody ready?"

Beth and Jonah nodded in silent acknowledgment. The van was now at the head of the Immigration line. Finally, the light turned green. Soren lowered his window, allowing the vehicle to roll up to the Immigration booth. A short female agent in full body-armour, gun on her hip, greeted them with a frown on her face.

"Citizenship?" the agent demanded, craning her neck to look through Soren's open window at Beth and Jonah. Soren took the passports from Beth and handed them to the agent.

"Canadian," he answered.

"Reason for your visit?" the agent asked. She was all business, not cracking even the faintest smile.

"We're visiting my wife's parents in Seattle," Soren answered casually.

The Immigration agent scanned each of their newly acquired, forged passports, one at a time. Soren wasn't anxious. He knew the forgeries were almost perfect and the chances of detection were slim. He smiled and waited patiently. The agent was taking her sweet time. Finally, she looked through Soren's window and looked directly at Beth; then looked at the photograph on her passport.

"Your full name, ma'am?"

"Elizabeth Dailey," Beth answered.

"Your parents' address in Seattle?"

"666 West Raye Street," Beth said.

The agent looked closely at Beth's passport one last time.

"You're a Canadian citizen now?"

"Yes. I was born in Seattle, but I got my Canadian Citizenship after I married my husband. My maiden name is Andersson."

The agent leaned into Soren's window again, this time looking at Jonah.

"And what's your name, young man?" she asked.

"John Dailey Junior," he announced with pride. "But Mommy and Daddy call me John Junior."

"Do they, now," the agent said, finally cracking a faint smile at the young boy's response. She turned her attention to Soren, first looking at his shaved head, then his passport photo, which had a full head of blond hair.

"Can you remove your sunglasses, please?"

She glanced back and forth between the passport photo and Soren's exposed face.

"Anybody ever mistake you for the golfer?" she asked.

"All the time," Soren answered, laughing. "It gets tedious after a while, but what can ya do?"

This time the agent's face broke into a smile. She handed the passports back to Soren.

"I'll bet it does. Have a nice visit, folks."

"Thanks," Soren answered. "We will. Have a good day yourself."

The agent handed the passports back to Soren, who immediately donned his sunglasses. As they drove away, he raised the van's window, smiling to himself. He just cleared his first major hurdle.

He hadn't planned on running quite so soon, but Soren sensed it wouldn't be long before the authorities started looking into the church's finances. He also sensed that Anika was ready to leave him, and he couldn't let a custody battle get in the way of having Jonah. It wouldn't be the first time that trusting his intuition had saved him.

But now, it was only a matter of hours before Anika and the police would be after him. It was time to disappear.

* * * * * * *

Anika Kristiansen rushed from her medical office. She was late for picking up Jonah from kindergarten. Her car beeped back at her as she pressed her remote to unlock it. She flung the door open, dropped into her seat, and slammed the door behind her. She grabbed her phone from her purse and tossed the bag into the passenger seat. Flipping open the phone, she dialed the kindergarten's number.

"Hello? ... This is Dr. Kristiansen ... I'm terribly sorry, something came up and I had to deal with it ... I'm on my way now, but I'll be about ten minutes late picking up Jonah," she said hurriedly.

The female voice on the other end hesitated before answering.

"Anika?" the woman answered, confusion in her voice. "Is that you?"

"Yes, is that you, Janice? Why? Is something wrong?"

"I thought you knew. Soren picked up Jonah at ten o'clock this morning. He told me about your parents' accident. He said he was meeting you at home so you could leave for Calgary as soon as possible. I hope they weren't hurt badly!"

Anika shivered. A chill surged through her body. A feeling of dread began to descend over her. Something was terribly amiss.

"I haven't heard any details yet, Janice. I probably missed Soren's call. Things were crazy at the office. I'll call you to let you know if Jonah's going to miss some days. Thanks," she said, as she pressed the hang-up button on her phone. She dialed Soren's mobile number. It rang repeatedly and then went to voicemail.

Hello. This is Pastor Kristiansen. I'm not able to answer the phone right now. Please leave me a message and I'll call you back as soon as possible. Have a blessed day.

Anika's heart was racing. Her thoughts started racing.

I know things haven't been good between us lately, but surely he wouldn't take Jonah? Where would he go? Where would he take him? Maybe he's at home!

Anika dialed their home number, praying that Soren would answer. With each ring, she felt her heart pounding harder. When the call went through to voicemail, she hung up and tossed her phone in the passenger seat. She fastened her seatbelt, turned the key in the ignition, and slammed the vehicle into reverse. As she backed out of her parking spot, she sensed a blur in her peripheral vision and slammed on her brakes. The other car screeched to a halt, blaring its horn at Anika. The man behind the wheel flipped her the bird, then drove on.

Anika took a couple of deep breaths, let her foot off the brake slowly, and then backed the rest of the way out of her parking spot. She jammed the vehicle into Drive and her SUV flew out of the parking lot, tires squealing as she turned right onto Blanshard. She headed for the highway back toward Brentwood Bay.

Rush hour traffic was heavy on the highway. It seemed to take forever to reach the Brentwood Bay turn-off. Anika's mind raced and her hands were locked onto the steering wheel as she sped along Mt. Newton Cross Road. Two more turns, and she came to their cul de sac. Anika swung into the driveway, slammed on the brakes, threw the transmission into Park, and flung the driver's door open, all in one motion. Her hands shook and she fumbled impatiently with her keys, trying desperately to open the front door to her home. Finally, her key seated in the lock and she turned the deadbolt. She threw the heavy door open.

"Jonah! Soren! Anybody home?" she screamed.

Anika was greeted by an ominous calm. Except for the steady ticking of the grandfather clock in the hallway, the house was silent. Anika's heart pounded. Her chest was tight and she struggled to catch her breath.

"Jonah," she whimpered. The clock ticked relentlessly and Anika's heart sank. Reality started to set in. She ran upstairs and then down the hallway to her bedroom. Her jaw dropped when she threw open the door. Soren's closet door was agape. His bureau drawers were hanging open. He'd clearly gathered up some clothes and left in a hurry. Anika ran to Jonah's room and was greeted by the same sight.

With a growing sense of dread, Anika marched down the hallway, down the staircase to the main floor, then downstairs to the basement. The basement light was already on. Her eyes were drawn to a glaring gap on their storage shelves where two suitcases had been stored. Her mind was now spinning out of control. She began to feel violated—worse than if somebody had put a knife to her throat and threatened her life—she felt angry and betrayed. Then the floodgates opened and she became overwhelmed by a flood of emotions—anger, betrayal, fear, helplessness, sadness, loneliness and guilt. But most of all, it was anger that raged inside her.

Anika felt like there was an anvil on her chest, preventing her lungs from sucking in any air. She dropped to her knees on the concrete floor, gasping for breath. Tears filled her eyes.

She sobbed inconsolably while she struggled to breathe. Time seemed to stand still. She had no idea how long she spent on her knees. Gradually, she felt the pressure easing off of her chest. Her knees throbbed. She managed to hoist herself to her feet and slowly ascended the stairs, first to the main floor, then to the upper floor. She wandered into Jonah's bedroom and sat on his bed, reaching for his favourite stuffed animal; a tattered and worn panda that Anika's parents had given him for his first birthday. She pulled it close to her body, and then curled up on the bed. Her sobbing didn't stop until she had cried herself to sleep.

---