SPIRITS
The Identity Trilogy: Book Three
​Chapter 1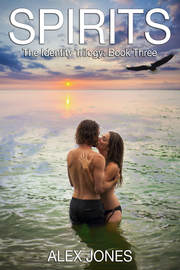 DARKNESS SETTLED over the streets of Las Vegas as the sun disappeared behind the Spring Mountain Range. Lights twinkled peacefully and a surreal spectacle of flashing neon and glowing hotel towers emerged from the desert landscape. Suddenly, the squealing of tires shattered the silence. A white delivery van careened around a corner onto West Cheyenne Avenue. Its engine roared as the vehicle accelerated away from the intersection on the six-lane road, weaving and swerving around vehicles that impeded its progress.
---
The driver, clad in black, leaned hard as his vehicle careened around another corner. Another black-clad man sitting in the passenger seat gripped an automatic weapon on his lap with one hand, while tightly gripping the handhold above him on his right. A brown-haired woman, clad in the brown uniform of a UPS delivery person, tried in vain to sit on the floor of the vehicle's cargo compartment, but her body slammed hard against the side of the van as it took another corner.

"Fuck!" Helen screamed.

She glared down at Fran, lying on the cargo floor beside her, with blood oozing from a wound in her right shoulder. The hatred in her eyes burned into the other woman like lasers.

"Capellini, you bitch! Don't you ever get tired of fucking me over? This time you're going to pay. Nobody fucks with Lady Helen and gets away with it!"
Francesca Capellini wrinkled her forehead and stared back at her captor. We've met before?

Francesca quickly averted her eyes from Helen, turning her gaze to the blood oozing from her wound. She winced from pain, then she looked up at her captor again.
Helen's eyes shifted from Francesca's wound to her swollen belly. At the same time, the look in Helen's eyes suddenly softened, signaling a one-hundred-eighty-degree shift in her mood. For an instant, Fran almost thought she saw compassion in the other woman. Then, just as quickly, Helen's eyes became distant while she was deep in thought.

"How far are we from the garage?" she shouted abruptly to the driver.

"Almost there! Just a few minutes."

"Well, hurry it up! We're going to need to improvise. We need a doctor. This woman's been shot and the bleeding won't stop."

Time felt like it was standing still for Fran. An uneasy feeling spread through her as she stared back into Helen's eyes. Hazy images from long ago flashed through her mind, trying to intrude into her consciousness ... a rear view of a nude woman, passionately kissing an unidentified man in a hot tub.

Fran's mind felt cloudy … confused.

Is it the same woman? Was I in that tub too?

She couldn't be sure. She almost felt as if she was floating over the hot tub scene, looking downward. She saw another woman with short black hair, also nude, sitting beside an older, grey-haired man. His hands wandered over the woman's body. A shiver surged through Fran's body and jolted her back into reality.

The seconds ticked as Fran strained to make a conscious connection to the distant memories. Nothing came. Suddenly, she became aware that Helen was still staring at her. A grin spread slowly across Helen's face and she started to laugh.

"You know what, Capellini? This could just work out alright after all."

Helen's smile turned wicked. "You may turn out to be a blessing in disguise as a hostage."

Helen's words brought Fran crashing back to reality: only a few short weeks after she had been freed from Indio Prison, she was a prisoner yet again! The realization swept over her like a tsunami. Hopeless and dejected, she looked down at her wound, then at the blood on the cargo bay floor. She curled up in fetal position, clutching at her stomach. She felt like she was going to vomit. All Fran heard was the roar of the van's engine.

"Slow down!" Helen screamed to the driver, above the roar. "Last thing we need is an effin' speeding ticket!"

The van's engine instantly lost its urgency as the driver backed off the accelerator. The ride in the cargo department stabilized, allowing Helen to reach into her pocket. She pulled out a cell phone and quickly dialed a number. She waited impatiently while the number rang: ... once ... twice ... three times ... and then a fourth ... finally there was a click on the line.



INSIDE THE GATES of the lavish Las Vegas estate, Las Vegas PD squad cars littered the driveway and long strands of yellow tape marked the area as an active crime scene. CSI technicians in protective clothing combed the area like a colony of ants. A black SUV passed through the gates and crept slowly up the driveway, receiving directions for where to park from a uniformed police officer.

An overweight middle-aged man, wearing a poorly-fitting black suit, climbed awkwardly from the driver's side of the vehicle. He removed his sunglasses to survey the scene. FBI Agent Gabe Martinelli's eyes were as keen and sharp as his wardrobe clearly was not. A younger woman who was shorter, muscular and fit from competitive running, slipped easily from the passenger side of the vehicle. Unlike her male counterpart, Agent Lindell Simpson was stylishly dressed in expensive navy slacks and a jacket. They walked up to the officer who had directed them to their parking spot.

"You in charge here?" Simpson asked.

"No, ma'am. Over there," the officer said, pointing to another young man in a suit who was interviewing a group of people. The younger man looked up, saw the two new arrivals, and began walking towards them.

"Hi. Detective Ryan Lewis, LVPD. I'm in charge here." He exchanged handshakes with the two newcomers. "My partner and I were nearby, so we were first to arrive when the call came in."

Lewis nodded towards his partner, another male officer, who was now taking statements from the same group of people whom Lewis had been interviewing.
"They sure didn't waste any time calling you guys in when we told them about the abduction."

Simpson's skilled eyes quickly took in the scene: she glanced at the group gathered outside the front door of the estate, and then brought her gaze back to two other men, one Caucasian and the other African-American, standing a few feet in front of her. The Caucasian man was clearly distressed and agitated. While she scanned the scene, Martinelli took control of the situation.

"Hi, Detective. I'm FBI Agent Martinelli. This is Agent Simpson."

"Good to meet you," Lewis said.

"Who are those two men in front of us?" Simpson said.

"The white guy is the homeowner. The black guy is a friend ... appears to have a background in the military and private security."

Simpson glanced at Martinelli, then back at Detective Lewis. "Guess we may as well start with them, if it's okay with you."

"Go ahead. It's your case now," Lewis replied.

Simpson and Martinelli wandered over to where the homeowner and his friend were standing.

"I'm FBI Agent Martinelli; this is Agent Simpson. And you are?"

"Whitney ... Dr. Dan Whitney ... my girlfriend ... the woman who was abducted ... this is our new home.

Martinelli and Simpson glanced at each other and raised their eyebrows after hearing Dan's name. Simpson pulled a note pad from a pocket in her suit and scribbled a note to herself.

"And you sir?" Martinelli asked, turning to the African-American man.

"Holloway ... Richard. I'm a friend of Dr. Whitney an' Fran. My wife an' I were here fer th'party," he drawled. His voice had a distinct Texas accent.

"Party?" Simpson replied. "What were you celebrating, Dr. Whitney?"

"Our housewarming. We'd just moved here from Palm Springs, so we invited some friends to celebrate with us," Dan answered.

"So, what happened?" Martinelli asked.

"I'm not exactly sure," Dan answered. "My girlfriend ... Fran ... Francesca Capellini ... She went to answer the doorbell. Somebody said there was a delivery for Angela, one of our guests. They were shouting for her to go to the front door. The next thing I knew, we heard shots and screams."

"Shots? How many?" Martinelli interjected.

"I don't know ... a lot," Dan replied. He looked to Richard for help with the question. "What do you think, Richard? How many?"

"One, initially," Richard answered. "Then I ran t'the front door with two o' my colleagues. We're all former military an' we do security work. Once th'intruders saw we were armed, they gave a barrage of coverin' fire – lots of it – t'allow the delivery person t'pull back'n escape. One o' my colleagues caught a glimpse from th'upstairs window. Looks like there were three o'them – two with automatic weapons. The smaller o'the three – th'one that took Fran – looked t'have a handgun.

Simpson looked to Detective Lewis for help.

"Did anybody get a good look at the delivery person?" She looked at her notes.

"Have you talked to this ... Angela ... yet?"

"Yeah, we talked to her. Her name is Angela Baranyi. She only caught a quick glimpse. Apparently, Capellini pushed her out of harm's way ... Must have seen the gun or something ... Angela thinks the perp was a woman ... Only about five feet tall, short brown hair ... Looked like she was a UPS delivery agent ... Brown ball cap pulled down over her eyes ... That's about it," Lewis reported.

Martinelli turned to Richard Holloway. "What about your colleague upstairs? Did she see anything?"

"Not much more'n Angela. She only got quick peeks cuz she was under fire. But it pretty much confirms what Angela said ... Short female, shoulder-length brown hair, brown UPS uniform, ball cap, an'a handgun," he answered.

"Any idea why they took your girlfriend, Dr. Whitney? Simpson interjected.

"Not a clue. Fran would never hurt anybody ... For some crazy reason, everybody seems to be out to get her ... I don't get it," Dan replied.

Martinelli and Simpson exchanged glances and raised their eyebrows again. Simpson paused for a moment, thinking.

"You said Palm Springs, Dr. Whitney? And your girlfriend's name is ...?"
Simpson took a quick look at her notes.

"... Capellini? Have I heard your names recently?"

Dan hung his head and sighed, suddenly feeling extremely weary.

"Is this necessary?" Richard asked. "Dan an' Francesca have been through a lot lately. They both lost their spouses ..."

Martinelli's eyes suddenly went wide as he made the mental connection. He turned to Dan.

"I remember now. Weren't you the two who were involved in that kinky shooting a few months ago in Palm Desert?" he asked.

Dan managed to raise his head enough to flash Martinelli a look of resentment. Seeing Dan's response, Simpson shot Martinelli a glance that said, "Lay off."

"We're sorry for your recent losses, Dr. Whitney," Simpson interjected. "You stated earlier that everybody seems to be out to get your girlfriend. Do either of you have any enemies we should know about?"

"I already told you," Dan huffed, his frustration surfacing again. "I don't know. If they were after me, I'd understand."

"Why you?" Simpson retorted.

"If you'd really been watching the news closely, maybe you'd already know about the recent attempts on my life by Soren Kristiansen and a woman who calls herself Helen. And you'd know they're still at large," Dan replied sarcastically.

Simpson and Martinelli exchanged glances and raised their eyebrows again. Simpson turned to Richard.

"Anything else you'd like to add, Mr. Holloway?" Simpson asked.

"Not right now," Richard answered. "It all happened so damned fast."

Simpson scribbled a few more lines in her notepad and then looked at Martinelli to see if he had anything else to ask. He shook his head from side to side. Simpson turned to Dan.

"Thanks for your patience, Dr. Whitney. I'm sorry to bother you with all these questions, since you've obviously been through a lot. I think that's all we have for now, but I'm sure we'll have more questions once CSI finishes with the scene."

She pulled a business card from the pocket of her suit jacket and handed it to Dan.

"If either of you think of anything else, you can reach me at that number ... Any time of day," she added.

Richard put his arm protectively around Dan's shoulder to help calm him.

"Thanks, ma'am. We'll be sure t'do just that if we think of anythin' else," Richard replied.

Dan and Richard shook hands with the two agents. Simpson and Martinelli turned their backs and began walking back towards their SUV. Martinelli paused to light a cigarette. Simpson stopped and shook her head disapprovingly.

"I thought you'd given those things up," she said.

"Yeah, me too," Martinelli answered. He took a drag, then exhaled slowly while he gathered his thoughts.

"So, if what they say is true, and Whitney's girlfriend was kidnapped, do you think it has anything to do with Kristiansen? Or maybe his mysterious lady friend?" he asked.

"Who knows," Simpson replied. "There's gotta be more to this than meets the eye, but it gives us a place to start. People don't just dress up in UPS uniforms or black camo, arm themselves with automatic weapons, and take innocent people in broad daylight for no apparent reason."
​
"No, they surely do not," Martinelli replied. He exhaled one last cloud of smoke, then threw the cigarette to the driveway and ground the butt into the pavement with his foot.