Diagnosing PTSD
In Parts One and Two of this series, I discussed the need to provide education for PTSD sufferers, their loved ones, and the general public, and I proposed an intuitive model for understanding PTSD as a state of chronic information overload. In this issue, I will address the issue of how we diagnose PTSD, and why the disorder often goes unrecognized, undiagnosed, and under-treated.

You or your loved ones may already suspect that you might have PTSD, but you may be asking yourselves: How do I find out if I have PTSD or not? The short answer is that it may be more difficult than you think to find somebody who can properly answer this question and give you a proper diagnosis. In reality, however, the reasons for why it is so difficult to confirm or rule out whether you have PTSD, are more complex.

One major reason for the difficulty in diagnosing PTSD is that the public was largely unaware of the existence of the disorder until recently. Unless you had experienced a severe life trauma and were diagnosed with PTSD, or unless you were a family member or loved one of somebody affected by PTSD, you were probably unaware of its existence. However, in recent years news reports about PTSD in the media have been increasing in number, and public awareness is slowly on the rise.

More recently, people have seen more frequent news reports about the high incidence of Posttraumatic Stress Disorder (PTSD) in soldiers returning from wars in Iraq, Afghanistan, or Vietnam. We're also starting to hear more reports of the toll that PTSD is taking on our first responders: police, firefighters, and paramedics. But despite the increase in reports about PTSD, there are still a large number of incorrect myths about the disorder that often result in the disorder going undiagnosed. For example, it's often assumed that PTSD only occurs after a single, devastating traumatic experience such as a gruesome battle, a major natural disaster, or from being raped or beaten. Even worse, there are many who don't believe that PTSD even exists. Those people believe that victims of the disorder just need to 'suck it up and move on.'

So, if there is still such a lack of understanding about PTSD, how does one know if we have the disorder or not? How does a psychiatrist or psychologist actually go about diagnosing a person with PTSD? Why does it often go undiagnosed? One way of answering these questions is found in standardized sets of diagnostic criteria that have been developed by bodies such as the American Psychiatric Association (APA) and the World Health Organization (WHO). In North America, psychiatrists and psychologists generally tend to use the APA diagnostic manual, which is called DSM-5, while the rest of the world tends to use the WHO diagnostic criteria known as ICD-10.

DSM-5 DIAGNOSTIC CRITERIA
The DSM-5 criteria for diagnosing PTSD consist of five major groups of symptoms, plus three additional separate criteria, which must all be met in order for a person to be diagnosed with PTSD. If we break down the diagnostic groups, we can see a pattern emerge that allows us to lump the symptoms together into four distinct clusters that explain and define PTSD. The first cluster is a group of symptoms that are very similar to those seen in major depressive disorders. The second cluster is a group of symptoms of fear, anxiety, and avoidance that are usually seen in various Anxiety Disorders. The third cluster is a group of symptoms that describe the state of sensory and emotional overload that is the important trademark of PTSD, which I described in Part Two of this blog series. Finally, the fourth symptom cluster is known as Dissociative Symptoms. This cluster of symptoms arises either from the brain's attempt to avoid remembering traumatic memories, or from the brain's inability to avoid getting stuck in remembering those traumatic events.

ICD-10 DIAGNOSTIC CRITERIA
The WHO diagnostic criteria in ICD-10 are not as extensive as those in DSM-5. But in some respects, ICD-10 better reflects the Information Processing model of PTSD that I proposed in Part Two of this series (Your Brain Before PTSD). ICD-10 contains one large group of symptoms that defines the sensory and emotional overload and hyper-arousal that I described in our model. Like DSM-5, ICD-10 also acknowledges the fear, anxiety, and avoidance that exist in PTSD. And also like DSM-5, the ICD-10 criteria include reference to the dissociative symptoms that occur when the brain reaches a state of overload. Although ICD-10 mentions that anxiety and depression are common when people have PTSD, there is much less emphasis on anxiety and depressive symptoms, and much more emphasis on the hyper-arousal and dissociative symptoms of PTSD.
PROBLEMS WITH DIAGNOSING PTSD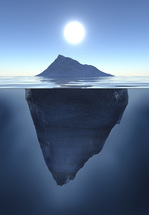 Although standardized Diagnostic Criteria are essential for providing standards for diagnosing PTSD, they also create some significant problems. One of the major difficulties in diagnosing PTSD in North America is the over-reliance on DSM-5 criteria for diagnosing the disorder, in combination with a dire shortage of skilled therapists who are specially trained for recognizing the hyper-arousal and dissociative symptoms of the disorder.

The vast majority of psychiatrists, psychologists, social workers, and behaviour therapists are well trained in recognizing the symptoms of various anxiety and depressive disorders that are the most common mental health problems. So when those professionals do their initial evaluations of people who might be suffering from PTSD, they only tend to look for the symptoms they see most often on a daily basis - anxiety and depression. Unfortunately, while anxiety and depression may be the most commonly seen symptoms of PTSD, they are often caused by more serious symptoms that are easily overlooked unless we are trained to look for them - the Hyper-arousal and Dissociative clusters of symptoms.

A good analogy for this phenomenon is the iceberg shown in Figure 1. As survivors of the Titanic disaster learned, it's not the small, beautiful part of the iceberg above the water that causes problems. It's the majority of the iceberg lurking beneath the water that is so deadly. Symptoms of anxiety and depression are like the visible tip of the iceberg, while Hyper-arousal and Dissociation make up the bulk of the PTSD iceberg beneath the surface that so often goes unseen.

As a result, vast numbers of people who have been badly traumatized are under-diagnosed with various anxiety or depressive disorders, when they should be diagnosed with PTSD. And even more tragically, their treatment then focuses only on the tip of the PTSD iceberg - anxiety and depression - but fails to address the underlying Hyper-arousal and Dissociation that prolong their misery unless they are properly treated.

Another major problem with using diagnostic criteria, especially DSM-5, is that people often think that all of the criteria apply to everybody who has been diagnosed with PTSD. In short, they often think that everybody with PTSD is affected in the same way. But in reality, exactly the opposite is true. Because there are an endless number of ways in which people can be traumatized, and because everybody reacts differently to those terrifying events, PTSD is unique and different for every single person who is affected by the disorder. So, unfortunately, the unique nature and severity of PTSD in individuals is not captured in either DSM-5 or ICD-10 diagnostic criteria, and the diagnosis is often missed.

OUR INFORMATION PROCESSING MODEL
In contrast to Diagnostic Criteria like DSM-5 and ICD-10, the Information Processing model of PTSD that I presented in Part Two of this series, better describes the nature and intensity of PTSD for each person. The model does that by focusing primarily on the extent of information overload and associated Hyper-arousal, and on the severity and unique characteristics of each person's Dissociative symptoms. Clinicians who are specially trained to diagnose and treat PTSD truly understand the importance of information overload, Hyper-arousal, and Dissociation. They tend to focus more on those symptoms when investigating whether or not a person might have PTSD, rather than relying exclusively on diagnostic criteria such as DSM-5 or ICD-10.

Our model of PTSD, defined as a state where people's capacity to process information has been overloaded by one or many traumatic events, helps people understand why they are unable to keep their brain focused on what is happening in the moment, and why they get stuck reliving and remembering their traumas over and over again. It also helps people understand why their brains manage to find ways push things away or to escape from reality, in order to try to prevent any further information overload and to prevent becoming stuck in reliving their traumatic past.

Because the process of Dissociation is such a huge part of the PTSD iceberg, and because it plays such an important role in PTSD, it deserves a separate discussion in the next installment of this blog series (Understanding PTSD – Part Four), where we will try to help people understand what is happening when they dissociate, and why they dissociate in the first place. If we're going to be successful in treating PTSD and eliminating the state of information overload, we must first treat the dissociative symptoms of the disorder. The beauty of this approach is that if we're successful, the anxiety and depressive symptoms that make up the tip of the PTSD iceberg will eventually melt away on their own once we properly treat the Dissociative Symptoms below the water and cause them to disappear.
_Alex is a Clinical Psychologist from Waterloo, Ontario, Canada, who writes fiction under the pen name Alex Jones. This blog is being published concurrently on Dr. Jones' professional website,
www.drdr.ca