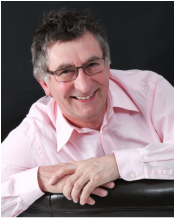 As both an author and an avid reader of fiction, when I really find myself connecting with stories, I find myself wishing that I knew more about the authors and what compelled them to write their stories. So, from time to time, I invite some of those authors to talk about themselves and their writing, and to give some insights into their stories. In this installment of PsykoScribble, I interview Alan Reynolds, whose books
Flying With Kites
and
The Tinker
I have enjoyed and reviewed on PsykoScribble.
​Alex: When did you first think of being a writer?
Alan: I never had any ambitions to be a writer, it happened by accident. As a self-employed professional my work patterns vary and in January 2010 my diary was empty for that month. I had an idea for a story which was based on a real life event which a colleague had described to me. It was a tragic story and something that had been in my mind for sometime so I asked myself how could this have happened. I then had the idea about Kosovan refugees and did a great deal of research about the Kosovan war. I started writing and three weeks later my first novel, Flying with Kites, was complete. Much editing followed before I shared it with a few friends and family and then started submitting the book to literary agents. I eventually was signed by Fisher King Publishing and the book was published in August 2011.
Alex: What inspired you to actually start writing?
Alan: It was the idea of relating a story; I become totally absorbed by the characters within my books and it is this that keeps me going; that, and the challenge of actually achieving a completed novel. I have now written eight novels with five published and a sixth due in late February.
Alex: What life experiences have most influenced your writing?
Alan: I love psychology and all my books have some element of this. My background in Banking led directly to my novel 'Breaking the Bank'. The Sixth Pillar was directly influenced by a period of work which meant flying out to North Sea gas rigs. Taskers End is quite a sad story and I don't honestly know where the influence was; I just thought of a story and started to write it; likewise, The Tinker (see below). The new book 'The Coat' was inspired by a meeting I had with a business colleague who had come away from a dinner dance with someone else's coat. I have built this into a taught thriller about people trafficking.
Alex: How did you come up with the idea for your novel, The Tinker?
Alan: I was on a visit to Bristol and decided to take a route away from the normal motorway. I found myself in the delightful village of Painswick which is famous for its church and yew trees. I walked around enjoying the scenery and tranquillity of the village and after a while stopped for a coffee. As I was sat in the cafe I could see the streets and the quaint houses and suddenly I imagined this itinerant worker cycling into the village. What is his story I wondered and when I got home I started writing 'The Tinker'. I have been back to the village several times and met the real vicar who has a copy of the book.
Alex: Tell us more about your main character, Michael.
Alan: Michael is somewhat of an enigma. I wanted the character to be shrouded in mystery so that readers would wonder (as I did) what his story was. I had the idea that he would be attractive, women would be drawn to him, but he would be hard to get to know. Clues appear that his past was traumatic (the psychological element again) which has led him to his choice of existence, always running, always on high alert. The reader will want to find out the truth.
Alex: What do you think readers will enjoy most about The Tinker?
Alan: The feedback I've had has been amazing and it seems the storyline is what keeps the pages turning. The characters fit the setting of a sleepy hamlet in the Cotswolds but once Michael's past is revealed, there is real tension as to the outcome.
Alex: Are you working on any other writing projects?
Alan: I have recently started my ninth novel which is set in Derbyshire, Switzerland and Australia; it will be about corporate greed and ecological disaster. I am 35,000 words in!
Alex: What do you enjoy reading, and who are your favourite authors?
Alan: I don't get much time for reading at the moment, but I am a big fan of Robert Harris and Michael Dobbs, especially his Churchill books. I also enjoy John Grisham and Andy McNab.
Alex: What do you enjoy doing when you're not writing?
Alan: I have my own business consultancy which takes up most of my time but when not working or writing I play guitar, listen to music or watch sport.
Alex: How can readers contact you?
​Alan:
By email
alan@alanreynoldsauthor.com
or via my website
www.alanreynoldsauthor.com
.
I am also on Twitter @alanreynolds2; and FaceBook – Alan.Reynolds3
​